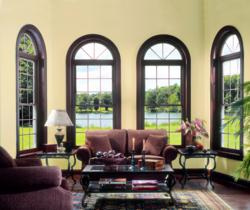 Streetsboro, OH (PRWEB) March 20, 2013
Soft-Lite LLC is proud to announce that most of its energy-efficient windows have been recognized as ENERGY STAR Most Efficient Products. The brand-new ENERGY STAR Most Efficient 2013 designation recognizes the most efficient products among those that qualify for the ENERGY STAR. Double-hung, sliding and picture windows from every one of Soft-Lite's product lines -- including Barrington, Bainbridge, Pro, Classic, Imperial LS and Elements -- have earned the Most Efficient designation with various high-performance, insulated glass systems.
Most Efficient is a new program that identifies the most efficient ENERGY STAR qualified products in the market at the time. Soft-Lite windows had to meet strict criteria to earn the Most Efficient distinction, including: Meeting the NAFS performance grade greater than or equal to 15; achieving a U-Value of less than or equal to 0.20; and attaining a Solar Heat Gain Coefficient requirement that is specified based on climate region. SHGC must be greater than or equal to 0.20 for ENERGY STAR's Northern region, less than or equal to 0.40 for North-Central, less than or equal to 0.25 for South-Central and less than or equal to 0.25 for South.
Soft-Lite is a vinyl replacement window and door manufacturer headquartered in Streetsboro, Ohio. The company is a multiple Crystal Achievement Award winner and is also a recipient of the Friedman Corporation Customer Appreciation Award, the Window & Door Top 100 Manufacturers recognition, and the Door and Window "Companies To Watch" recognition. Soft-Lite Gorell LLC, a wholly owned subsidiary of Soft-Lite, also achieved recognition as the only national ENERGY STAR Partner of the Year for seven consecutive years. For more information, visit http://www.soft-lite.com and http://www.gorell.com.