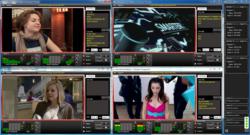 Clearwater, Florida (PRWEB) March 26, 2013
Vela Research announces the widespread deployment of its multi-input ASI and quad SDI configuration MultiViewer systems by broadcast and content operations across the US.
Vela's ArgoNavis MultiViewer CALM Act solutions are powerful, full-featured and easy-to-integrate systems that provide loudness and LKFS monitoring, alerting and alarming features. This CALM Act solution comes in a quad SDI configuration to enable operators who need to monitor up to four independent SDI channels. The multi-input ASI version enables operators to monitor the content at the last point of contact within the workflow.
Besides the audio and loudness monitoring required for effective CALM Act compliance by operators, the ArgoNavis also provides a full set of 608 and 708 Closed Captioning, VANC and metadata capabilities, SDI and ASI interface options, and intuitive user-interfaces allowing local and remote control and convenient integration into operators' existing workflow.
The ArgoNavis Multi-Viewer CALM Act solution and Content QC system provides a cost-effective solution for call letter stations, Station Groups, satellite distributors, content providers and others to ensure the quality, integrity and regulatory compliance of their programming content. It also provides a full-fledged set of LKFS capabilities, measurements, alerting and logging features to allow operators to comply with the CALM Act.
The Video Recording capability provides a real-time, 1920x1080i resolution, full frame rate H.264 encode of the ArgoNavis system's output for signal verification and creation of compliance records, The output displays the independent video inputs, as well as the associated audio levels, LKFS values, Closed Captioning and any detected errors or alarms (including black or missing frames, broadcast flag, etc). The logs can be segmented into hourly files to enable operators, compliance officers and management to quickly locate, view, share and distribute content relating to a specific period or duration. These indexed log files can be decoded and viewed in most common clients and video players such as QuickTime and VLC. A detailed specification sheet can be found here.
Vela's ArgoNavis MultiViewer systems are widely deployed, cost effective and field-proven solutions that have provided significant benefits not just in loudness measurements and CALM Act compliance, but also in ensuring comprehensive video and program integrity, flagging and alerting operators for exception conditions and potential violations, and in creating comprehensive records of content distributed or created for verification and audit trail purposes.