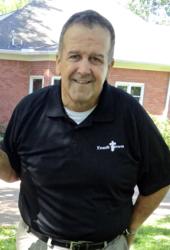 Jackson wrote about his journey with Parkinson's Disease in his book, "When I Get to Heaven the Only Thing Shaking Will Be Elvis." In addition to his work at Youth Town, he serves as spiritual mentor for Coach Hugh Freeze's Ole Miss football team.
Jackson, TN (PRWEB) March 20, 2013
The Youth Town of Tennessee Jim Jackson Classic, sponsored by CarSmart of Memphis, will be on Monday, May 6, at the Jackson Golf and Country Club. Flights will begin at 8 a.m. and at 1 p.m., with lunch at noon for this fundraiser to help young men battle addiction.
Youth Town Executive Director Nick Pappas and Development Director Mike Roby have announced that the annual tournament will be named in honor of Jim Jackson beginning this year. Jackson, a retired treasury agent, is married to Laura Sims Jackson. He is author of a book that discusses his journey with Parkinson's Disease, "When I Get to Heaven the Only Thing Shaking Will Be Elvis." He serves as a Youth Town mentor at Power Hour every Monday morning; through this work, he has led dozens of young men battling addiction to Christ.
Jackson also has served as a spiritual mentor for Coach Hugh Freeze's football teams, in the past at Lambuth University and now at Ole Miss. His message is, "Keep it simple. Lay your burdens at the cross." In 2010, Jackson was recipient of the Sara Kimes Volunteer of the Year Award at Youth Town. He also has helped the Youth Town golf event grow from $32,000 before 2008 to around $100,000 each year, making it the largest fundraising tournament in Jackson.
Jackson and Marvin Freeman are chairing a committee of volunteers who are assisting Roby in planning the tournament. A limited number of teams are still available for $1000 for a four-person team, and hole sponsorships are available for $300. Anyone who is interested in playing or sponsoring may contact Mike Roby at mroby(at)youthtown(dot)net or 731-234-5642.
Youth Town continues to be accredited by the Council on Accreditation (COA) to provide residential treatment services, services for substance use conditions, and wilderness and therapeutic outdoor services to young men. The COA approved Youth Town's operations in the areas of ethical practices, financial management, governance, administration and management, human resources, performance and quality improvement, risk prevention and management, administrative and service environment, behavior support and management, client rights, and training and supervision. For more information about Youth Town and its mission, individuals can visit http://youthtown.net.