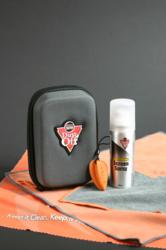 Branchburg (PRWEB) March 21, 2013
Dust-Off®, the leading brand of consumer electronic cleaning products, is offering essential electronic cleaning items for National Cleaning Week, March 24-30. With an array of products to choose from, Dust-Off has consumers electronic cleaning needs covered inside and outside the home.
This is the time of year when people are highly motivated to turn their homes upside down in an effort to eradicate dust and grime. However, what they may not realize is that their pricy gadgets need the same attention as the rest of their home. The problem is that expensive gadgets can easily be ruined by the household cleaners consumers use on the rest of their home. Dust-Off makes a number of products designed to keep electronics in the home clean and dirt free.
•Dust-Off's Ultimate Screen Care Kit is the ideal cleaning solution for electronics in the home. With the ability to be used on all kinds of screens, including LCD/Plasma TVs, computer monitors and tablets, this kit includes 1 – 50ml Screen Spray, 1 – Screen Shammy Microfiber Cloth for use on various devices, 1 – Plasma Screen Microfiber Cloth, 1 – CD/DVD Cloth for media disks, 1 – Sweep mobile cleaning pad. Also, all components are packaged in a zippered storage case that helps consumers keep supplies neat and organized.
•Spring cleaning is also the ideal time to clean out your child's favorite gaming system. When gaming gear collects dust it has a big impact on its performance. To avoid lint and dust from building up around cooling fans try Dust-Off's Game Gear Cleaning Kit. This kit will ensure that gaming equipment is running at maximum performance levels, and will help avoid potential system crashes that are sometimes associated with dust build up. The Game Cleaning Kit also comes with a specially formulated spray that is ideal for cleaning gaming discs and screens.
Spring Cleaning is not limited to just the home, consumers' mobile devices and in-car gadgets can get just as dirty. Smartphones are constantly exposed to grime and facial oils that are difficult to clean, and in-car navigation and radio touch screens will collect fingerprints that make displays hard to see. Falcon portable screen cleaners are ideal for on-the-go cleaning and are simple to store in the car, a purse or briefcase.
•With Dust-Off's Portable Screen Cleaning Kit, anyone can safely and easily clean their smartphone on-the-go. The pen-sized pump spray and Microfiber cloth come in an easy to store compact package. The portable screen cleaner offers a safe and effective solution for removing smudges and fingerprints from all mobile devices.
•Built-in touchscreens and GPS system have become standard in cars today and are marred with dirt, grime and fingerprints. Dust-Off's Electronics Screen Wipes are quick drying for on-the-go clean up, are safe to use daily and keep in-car devices looking like new.
For more tips on cleaning electronics visit, http://www.youtube.com/watch?v=iM_1BVnNwkY. All of Dust-Off's screen cleaning products are currently available and can be purchased at http://www.dust-off.com/products.
About Dust-Off®
Manufactured by Falcon Safety Products Inc., a world leader in compressed-gas technology, Dust-Off offers the most comprehensive line of dust removing and preventive maintenance products for consumer electronics and home or office equipment. Dust-Off compressed-gas dusters are one of the most versatile cleaning accessories available to consumers today and have long been a staple for the care and maintenance of computers and other electronic equipment. For additional information, please visit http://www.Dust-Off.com or follow on Facebook at http://www.Facebook.com/KeepitDustOff.