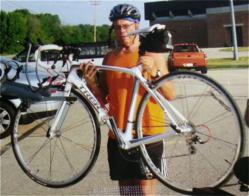 Henderson, NV (PRWEB) March 22, 2013
The connection between Americans and cardiac arrest has sadly become very common in recent decades. Today, it would be truly difficult to find an individual who has not been affected by cardiac arrest in some capacity- be it through personal experience, experience of family members or close friends, or stories heard on the local news- and these experiences seldom result in a happy ending. This is not the case for Larry Cerny, a business owner from Wisconsin, and recent cardiac arrest survivor.
Throughout his life, Cerny, 68, has been dedicated to living an active lifestyle. Rather than limiting himself to a specific sport or activity, he has developed an interest in many areas ranging from walking, running, weight training, racquetball and recently cycling, to name a few. A week prior to his heart incident, he covered over 402 miles on his bicycle throughout many parts of Arizona.
One month ago, Cerny was training in the stairwell of his local hospital with his girlfriend's daughter for the upcoming Hustle up the Hancock stair race. The race up one of Chicago's tallest skyscrapers would not be his first stair race- he finished in first place among his age group on multiple occasions for competitive races up the US Bank building, Milwaukee's tallest building. Despite his competitive racing experience, high levels of activity, healthy diet and overall healthy lifestyle, he was not immune to the dangers of cardiac arrest. In the middle of the training session, Cerny noticed he was more fatigued than normal. As he was descending the stairs, he suddenly went into cardiac arrest, lost consciousness and fell down the flight of stairs.
After seeing him stumble down the stairs, his training partner rushed to his side to find him unconscious, bleeding from the head, and not breathing. She immediately rushed out of the stairwell to get help, and within a minute an emergency response team rushed into the stairwell. The emergency team immediately began Advanced Cardiac Life Support (ACLS) resuscitation efforts, though after a few minutes, their efforts were unsuccessful. Due to Cerny's incredible physical shape, the team continued their efforts, and after 45-minutes- an incredible amount of time to continue resuscitation efforts alone- they were able to reestablish a pulse. The team immediately rushed him to the catheterization lab, and two stents were placed to open up the blocked vessels of his heart.
Though his heart had began pumping again, the medical team at Wheaton Franciscan Healthcare- All Saints Hospital was deeply concerned for his neurological status, and had Cerny undergo hypothermia treatment, cooling his body temperature to 90˚ for more than 24 hours. At the time, it was unclear if he would make a recovery at all- but as he had in every competition and physical activity throughout his life, Larry pulled through.
A few days later he woke up, and he quickly began seeing drastic improvements. Through the help of the medical staff and his dedicated family members, and his own will power, Cerny was discharged from the hospital less than a week after his heart attack. He has continued to improve every day since being released from the hospital, and will soon be back to his active, enthusiastic, outgoing, captivating self.
In many ways, Larry's emotional and physical state at the time of his incident played into his survival. However, without the efforts of the response team, and their knowledge of Advanced Cardiac Life Support (ACLS), it is unlikely Larry would be alive today. This training is required among medical professionals for emergency situations like this, and because these professionals have received this training, they were able to give Cerny additional years with his family and friends.
While this training is vitally important for health care professionals, it can also be useful for all Americans. According to recent statistics from the American Heart Association, more than 383,000 people suffer from out-of-hospital cardiac arrests annually. More than 88 percent of these instances occur at home, away from trained medical personnel. In these instances, life support training and knowledge can triple a victim's chance of survival.
Today, this training can be conveniently accessed through online courses. Advanced Medical Certification provides online certification courses for health care professionals in Basic Life Support (BLS), Advanced Cardiac Life Support (ACLS) and Pediatric Advanced Life Support (PALS). Although these courses are primarily created and geared towards medical professionals, the company will not turn away any individual without a medical occupation. "We will never turn anyone away from our life support training courses. The country and world can only benefit from more individuals knowing what to do in an emergency situation and having this life support training," a company spokesman said.
Thanks to successful ACLS training, the likes of which can now be found online, Larry Cerny is now a heart attack survivor, and can continue inspiring others of the benefits living an active, healthy lifestyle can have. He's living proof.
About Advanced Medical Certification
Advanced Medical Certification is the most trusted online provider of Advanced Cardiac Life Support (ACLS), Pediatric Advanced Life Support (PALS) and Basic Life Support (BLS) certification and recertification courses for health care professionals. All course curriculum can be accessed entirely online, giving medical professionals a convenient alternative to traditional on-site courses. All material adheres to the most recent American Heart Association (AHA) standards and guidelines.
Copyright © 2013 Satori Continuum Publishing. All rights reserved