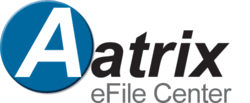 The number of business taking advantage of eFiling continues to exceed every projection
Grand Forks, ND (PRWEB) March 22, 2013
Revenue exceeds expectations
Aatrix CEO Steve Lunseth says, "The number of business taking advantage of eFiling continues to exceed every projection we have made over the last six years. With several of the nations largest accounting developers now offering the Aatrix State & Fed Payroll Reports™ module to their customers we anticipate that growth will continue for some time." According to surveyed businesses in-house costs of processing W-2s are over $3 per employee. Aatrix's full service W-2 processing which includes state filing, fed filing, and delivered employee copies all for less than $2 per employee. Aatrix's Payroll eFile Center processed over 8,000,000 W-2s in the first quarter of 2013 compared to 5,000,000 during the same period in 2012.
eFiling benefits
The Aatrix's Payroll eFile Center solution removes the onerous task of manually typing/printing W-2/W-3 and year-end withholding reports. The W-2 eFile solution streamlines the process of state and federal filing, as well as, employee distribution for those companies required to file magnetic media and smaller companies looking for a secure time saving process. Over 250 state and federal reports have been approved by more than 170 government agencies. All reports are automatically completed directly from the payroll data of many of the most popular payroll software solutions.
2012 survey confirms customer satisfaction
A survey of over 18,000 customers conducted in February 2012 revealed that over 93% of eFilers would recommend the service to others. In addition, 98% of eFilers indicated that Aatrix's eFile solution worked well with their payroll application.
Aatrix integrates with major accounting software
The Aatrix's State & Fed Payroll Reports™ software which includes the ability to eFile over 250 forms is used over 265,000 businesses currently and several new partnerships are anticipated in 2013 The Aatrix module is a fully integrated, branded solution, and is available to any payroll software developer or payroll service provider.
Aatrix Software, Inc.
Located in Grand Forks, ND, Aatrix Software has been developing innovative accounting software solutions since 1987. Originally founded to develop Macintosh accounting and payroll applications, Aatrix's Electronic Forms Division has established itself as a leader in payroll tax forms for Windows®. Aatrix provides Electronic Payroll Reports and eFiling for Windows® accounting software. Aatrix's finance software has received numerous awards, including Software Digest's highest overall rating and Home Office Computing Editor's Pick.