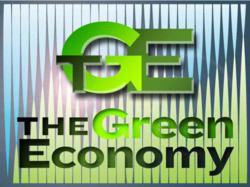 We have formed an alliance with a firm of nationally known documentary filmmakers to help us make professional level podcasts that will bring a new dimension to reporting on the green economy, — Tana Kantor, publisher
Princeton, NJ (PRWEB) March 28, 2013
The Green Economy is launching a crowd-sourcing campaign through Kickstarter.com in April, coinciding with the launch of their redesigned website. The campaign will enable the company to reach new audiences through a series of podcasts.
"We have formed an alliance with a firm of nationally known documentary filmmakers to help us make professional level podcasts that will bring a new dimension to reporting on the green economy," says Tana Kantor, publisher. "To accomplish this, we are going for funding from a number of sources."
Besides continuing to report on successful business strategies, The Green Economy is upgrading its website with extensive visual representations. The magazine is expanding its hugely successful internship program, which helps young journalists and designers begin their careers in all areas of publishing.
The Green Economy is an online magazine and website, providing reliable, fact based, in-depth reporting on energy, technology, policy, design and finance. Its writers engage with leaders in the business world who are successfully tackling environmental sustainability. The Green Economy tells their stories.