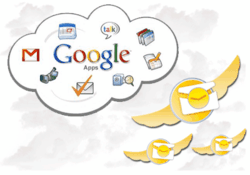 Folders are a relic of the offline world, in which a paper document can only go in one folder without a copying machine.
UK - (PRWEB UK) 25 March 2013
London: Competition, we love it. It drives innovation, rewards hard work and generates a fairer, more stable marketplace for consumers and businesses alike. Competition forces organisations to differentiate themselves in the market whilst pushing to better understand customer needs. When companies compete, customers get what they want. The question is: What differentiates Google Apps' Gmail and Outlook.com and which solution best fits in enterprise?
Storage
Don't delete mail to save space… Archive it instead. With 25GB of Gmail storage per user, employees don't have to delete a single email or attachment. Users always have access to data and can better use the time previously spent cleaning inboxes to free up space.
Clean up duplicate contacts that migrated with Microsoft Outlook. These contact records can easily be merged without losing any data
Efficient working
Gmail uses labels. Users can apply as many as needed to a particular message. So an email among colleagues to make plans for "Christmas Party" might be filed away as "Internal," Team bonding" and even "Christmas." With folders, users are forced to choose one folder for each message or create multiple copies of the messages. It's a relic of the offline world, in which a paper document can only go in one folder without a copying machine.
Make the process of going through an inbox faster with keyboard shortcuts. Keyboard shortcuts help users save time by allowing them to never take their hands off the keyboard to use the mouse. Genius.
The Offline Gmail Mail app for Chrome lets you read and write emails without an internet connection. Drafted messages are sent, and the inbox is synced, the next time that users connect to the Internet.
Let's be sensible
Meanwhile, those 50 emails it might take to coordinate the Christmas party had the potential to clutter the inbox. Gmail automatically groups those into "conversations," so all 50 messages are viewed as a single item in the inbox.
Send an email to the wrong person? Email without an attachment? Or simply need to add something to the email. Don't panic – Google has an 'undo' button for that.
Save disk pace (and time) by previewing attachments without downloading them. For users of Google Chrome, drag and drop attachments from Gmail messages to the desktop to download.
Get a quick feature-by-feature comparison between Gmail and Outlook here in presentation format.
Google Apps, a product sold by AppsCare is the only 100% cloud based IT infrastructure and suite of collaborative tools, that enables employees to work the way they want. Apps allows users to work from any device, in any location and collaborate in real time with colleagues. AppsCare's customers can create, share, and edit documents with anyone, regardless of whether they have a Google account. Also, the ability to view document changes in real time – even those made by several people at once in the same document – has its advantages.
AppsCare®, Google Enterprise Premier Partner (powered by Netpremacy Global Services) is a world leader in cloud services provisions, supporting over 2500 customers in 33 countries. Their fortnightly newsletter provides latest industry news, tips and 'how to' features and useful information about Cloud computing, to subscribe to their mailing list click here.