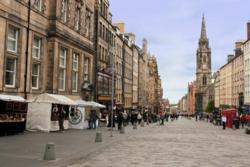 As the capital of Scotland, Edinburgh is extremely important to the UK economy
(PRWEB UK) 26 March 2013
Edinburgh has come ahead of London in a new league table of the top 100 areas for net company growth in Q4 of last year.
The table was released by company formation agents, Duport.co.uk and organises the top 100 towns by their relative net growth during the quarter.
Edinburgh comes in fourth place, ahead of London, which comes in fifteenth. Glasgow lags behind at number 78, and Birmingham appears at 86.
The economy of Edinburgh is largely based around the service sector, with tourism, financial services and banking being particularly important. In addition, it has a growing high tech research industry. Duport has also recently released an annual Business Confidence Report for the city, revealing 2012 was a record year for both company registration and net company growth - which has led to its high place in the league table.
Managing Director of Duport.co.uk, Peter Valaitis commented:
"As the capital of Scotland, Edinburgh is extremely important to the UK economy, so it's fantastic to see it gaining a top place in our net company growth league table for Q4. The fact it also had a record number of company registrations last year is a promising sign that business confidence is high in the city."
The full league table and the Edinburgh Business Confidence Report can be viewed at http://www.duport.co.uk/confidence-reports/.
Duport Town League Tables are generated and released by Duport Associates Ltd. The data contained in these tables is assimilated and analysed by Duport using public record data from sources including Companies House, Office for National Statistics and Ordnance Survey. Duport Associates Ltd is a leading UK company formation agent, established in 1997 and registering around 10,000 new companies each year through its Companies House approved software.