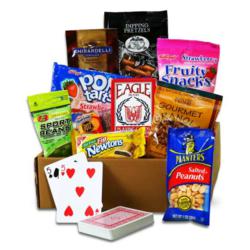 Make studying for that exam a lot more fun!
(PRWEB) March 22, 2013
Yes, the popular Gift Basket site, http://www.premiergiftbaskets.biz has overdone themselves this time with the creation of four new Gift Basket categories which adds to their collection of many more and hundreds of different Themed Baskets.
Premier Gift Baskets, the brainchild of Software Solutions, LLC overseen by Daniel L Hoover, CEO, a company that operated for years as an IT services company and still does limited IT services decided in 2012 to expand their web site business to include themselves and with the success of their two most successful web stores, http://www.premiergiftbaskets.biz and http://www.tentsandall.com. They have directed their certified web designers to concentrate on the updating of the web stores.
They've also increased their staff to handle orders in an almost immediate shipping of your basket as soon as you complete your order on the sites. They accept Visa, MasterCard, Discover and American Express as well as Paypal for those who prefer to use that alternative.Your order is approved right on the site's cart checkout and then the site automatically sends the company the approved order and their staff goes to work immediately and your basket ships to your specified destination in one to two days max, depending on your location. You also have the choice of calling their toll free number, (855) 697-7655 and place your order with a live person from 8:00 AM till 6:00 PM EST but the online stores are open 24/7/365, your choice. There is also on site a direct email app where you can message questions or suggestions and expect a quick reply.
But let's talk about the new categories. "Godiva Forever" containing many different Gift Baskets, of course loaded with Godiva Gourmet Chocolates arranged differently for numerous themes which are captioned under the photo. Then just click on the picture and receive an enlarged photo and a complete list of all the inclusions plus a very detailed description. This is the same for all Gift Baskets on the sites.
The "Coffee And Tea Time" baskets feature some of the most coveted teas, etc. that are available today. This category is a 2013 update from last years selections.
"Thinking Of You" is just what it says. A conglomeration of really personal and carefully packaged Gift Baskets, themed for when someone is having a tough time or just when you'd like to cheer someone up, this is the collection to do the job.
"Care Packages" is a small but effective selection for young people studying for exams and staying up all night, Study Buddy's, Crunch Time, etc., all are packed with many of the most popular snack type items available on the market.
"Easter Baskets" has already been presented but let's emphasize the quality, ingredients and number of selections available. Check them out at http://www.premiergiftbaskets.biz and see for yourself all that is available to you.