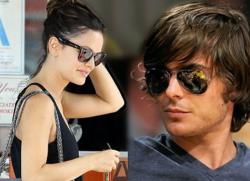 (PRWEB) March 21, 2013
Of all Prescription Ray Ban Sunglasses, the Aviators and Wayfarers are two of the most popular styles ever. Historically it has not been possible to produce clear vision in the peripheral portions of these larger lens sizes. A more important issue in these larger lenses is how the edge of the lens was "rolled off" and polished. This type of edging produced eyewear that resembled the bottom of a Coke bottle. Technology has dramatically improved both the optics and the appearance of these prescription Ray Ban sunglasses.
Free-form digital lenses use a design from Shamir to recalculate the curvature at every point on the lens. This design provides crisp, clear vision all the way through the peripheral portions of the lens. And a new type of edger called an MEI Edger can create a Shelf Bevel that has eliminated the need to roll off the excess lens material. The combination of these two new technologies is making prescription lenses optically superior and much better looking. Even larger prescription glasses like the Prescription Ray Ban Aviators and Wayfarer sunglasses will help patients look better and see better than ever before.
ADS Sports Eyewear sells both Prescription Ray Ban Sunglasses and Prescription Ray Ban Eyeglasses on their web site, http://www.ADSEyewear.com. The company is located in the North Dallas area of Texas and they have specialized in the sales of prescription eyewear since 2000. ADS Sports Eyewear is optician owned and operated with a knowledgeable staff that uses and understands prescription eyewear.