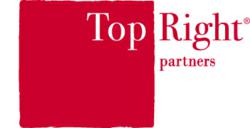 ATLANTA, GA (PRWEB) March 25, 2013
TopRight Partners, a leading strategic management consultancy, announced today that Jeffrey Pedone has joined their executive team as a Managing Partner. Jeff will focus on delivering TopRight's integrated marketing strategy, analytics and marketing automation offerings to its expanding client base in the core markets of the Northeast with special focus on Metro NYC and the Boston area. Jeff will also be heavily involved with TopRight's federal and non-profit projects and partnering with TopRight's key strategic technology partners.
According to Dave Sutton, President and CEO of TopRight, "Jeff brings deep CRM, database marketing and digital marketing automation expertise to TopRight. Having served as both a corporate marketing executive and a strategic consultant in his career, Jeff delivers the ideal blend of thought leadership and practical marketing execution experience. We are thrilled to have him on board to help lead our growth in the New York and Boston markets."
Jeff Pedone added, "Having been a strategic marketing consultant with my own practice for many years, TopRight was a natural fit for me. Dave and the other Partners share the same philosophy I have of delivering optimum customer-focused solutions through rapidly developing technology. Placing the customer first through design, strategy, campaign management, analytics, and deployment are core to TopRight. TopRight's leadership in this space is unrivaled."
Jeff has over 20 years experience as a strategic marketing consultant, entrepreneur and marketing practitioner including senior-level roles in the Telecommunications, Media and Entertainment industries. He joins TopRight from Silver Lining Consulting, LLC, his own digital marketing consultancy focused on CRM, enterprise marketing management, and RFP proposal management.
About TopRight Partners
TopRight is a strategic marketing consultancy combining creative strategy, innovative analytic techniques and enabling technologies to yield actionable insights and drive business performance. TopRight helps clients accelerate growth and market effectiveness by bringing prominent management consultants, Fortune 500 marketing executives and senior practitioners together to apply expertise and proven methodologies -- from strategy to execution, to streamlined business & marketing processes, to leveraging world class technologies. With headquarters in Atlanta and corporate offices in New York, Washington, DC and Chicago, TopRight serves Global 500 companies, government and non-profit organizations.
For more information, please contact Denise Cowden at denise(at)toprightcreative(dot)com or Jeffrey Pedone at jpedone(at)toprightpartners(dot)com, and visit us at http://www.toprightpartners.com.