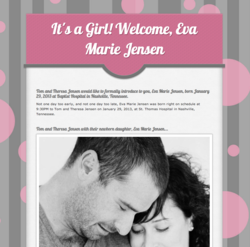 Instant notification is invaluable. Going back to sending email with attachments is no longer an option
Nashville, Tennessee (PRWEB) March 21, 2013
On March 20, 2013, Nashville micro-publishing start-up platform http://www.Populr.me announced it now offers complimentary birth announcement pages for both parents and hospitals. In addition to the many business communication uses Populr.me satisfies, its birth announcement pages are being offered at no charge to all users to help introduce the popular micro-publishing software to the masses.
"Populr.me is used by business people to create and manage dynamic and interactive online communications such as sales proposals, online training, corporate memos, product showcases and sales follow-up. But, Populr.me does a whole lot more. We're hoping that by offering complimentary birth announcement pages, we can introduce our micro-publishing solution to the masses, and let them see first-hand just how powerful Populr.me can be for communications", according to Nicholas Holland, CEO of Populr.me.
Populr.me allows users to create single-page communications called, "POP's". POP is short for "Published One-Pager. Each POP can include unlimited images, text, videos, forms, maps, and countless embedded features.
http://www.Populr.me officially launched in January 2013, and has since created various usage examples for both individuals and businesses. Populr.me allows all users the ability to use the online publishing software at no charge, and pay only when their needs exceed the no-cost plan. Complimentary birth page announcements are just one of many things Populr.me handles with ease. Here are a few more that have recently started a trend:
Product Sell Sheets
Recruiters
Corporate Memos
Training
eBooks
Online Seminars
Real Estate
Sales Proposals
Sales Follow-Up
One of the many benefits Populr.me offers is instant notification. Users can create custom links called "tracers" that allow them to email links to their online pages at Populr.me. When the link is clicked by the recipient, the sender gets an email notification letting them know the page has been viewed. This feature is amazing, since it takes the guesswork out of follow-up communications.
Sharing your pages is easy using Populr.me's built-in sharing tools for Facebook, Twitter, Google+, LinkedIn and email. No matter how you share your page, you'll get notified that its been viewed.
"Our company helps businesses use Populr.me for organizing and improving communications. A perfect example is my father's fine art gallery in Naples, Florida. We created a system for them using Populr.me to showcase their fine art. This type of art can cost upwards of $100,000 per piece. Buyers of this type of art are busy, and rather than hound them with unnecessary follow-up calls, they depend on Populr.me's notification system for timing perfectly their phone and email follow-up. Knowing if and when they've viewed the artwork has become invaluable to the art gallery. Going back to sending email with attachments is no longer an option", according to Drew Bourke, CEO at Starmaker PR Group, a publicity firm now using Populr.me internally and with their clients.
Learn more about Populr.me's complimentary birth announcement pages and instant notification system by visiting http://www.Populr.me.