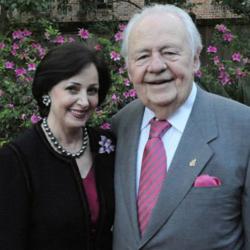 One of our goals, as a Jesuit university, is to make a Loyola education accessible to all talented and hardworking students.
New Orleans, LA (PRWEB) March 21, 2013
Students with financial need at Loyola University New Orleans will soon have more scholarship dollars available to them thanks to the philanthropy of Tom (H'87) and Gayle Benson. The Gayle and Tom Benson Charitable Foundation announced March 14 its $5 million pledge in financial aid to the university to be used for scholarship support for academically talented students with demonstrated financial need.
The $5 million gift will be distributed over five years and is divided into two parts—$4 million to establish the Tom and Gayle Benson Endowed Scholarship Fund and $1 million for support of immediate-use scholarships. The Benson Endowed Scholarship Fund will be invested and utilized to support Loyola sophomore or higher grade students who have a minimum GPA of 3.0 and who are in financial need.
"One of our goals, as a Jesuit university, is to make a Loyola education accessible to all talented and hardworking students. This gift helps us educate students who have financial need and who would not be able to attend Loyola without the support of generous benefactors like the Bensons," said Loyola President Kevin Wm. Wildes, S.J., Ph.D. "I know the Bensons have a very strong commitment to education, to Loyola and to our students. This is a great day for Loyola and for New Orleans."
Tom Benson's history with Loyola University dates back to his days on campus in 1944 when he enrolled as a student. Since that time, Benson has risen to become one of New Orleans' most successful businessmen, amassing wealth through ownership of several automobile dealerships and small banks, not to mention his purchase of the New Orleans Saints in 1985. His and his wife's devotion to the Catholic Church and commitment to Catholic education have made them among Loyola's staunchest supporters.
"Gayle and I are proud to make this gift available to Loyola University. It speaks to the dedication of this great university to prepare students for life ahead, not only through the classroom, but also through their Catholic faith and community service," Benson said. "Loyola University has always held a special place in my heart, and providing a gift that will be used for scholarships for needy students will be one that Gayle and I can look on and know with confidence will make a positive difference in someone's life."
Benson, who received an honorary degree from Loyola in 1987, has been a long-time benefactor of the university. Since Hurricane Katrina, Benson has pledged more than $14 million to Loyola. He gifted $8 million in 2011 toward the establishment of the Tom Benson Jesuit Center. In 2007, Benson also contributed $1 million to Loyola as a part of a $2 million gift to create the Jesuit Social Research Institute, a collaboration of the New Orleans Province of the Society of Jesus and the university that promotes research, social analysis and practical strategies for improving the social and economic conditions in the southern United States, focusing on issues of race, poverty and migration. In 1999, Benson helped fund the first phase of construction of the Gregory R. Choppin Chemistry Wing in Monroe Hall, which was completed in fall 2008.
In 2010, the university awarded Benson its highest honor–the Integritas Vitae Award–for his continued support and for exemplifying the qualities Loyola seeks to instill in its students.