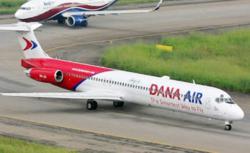 (PRWEB) March 22, 2013
The federal government has asked Dana Air, whose operations were suspended on Saturday, to resume services immediately, but has ordered that its aircraft which had technical problems should remain grounded until it is satisfied with the airworthiness of the aircraft by its manufacturer, Boeing.
In a statement signed by the Special Adviser (Media) to the Minister of Aviation, Joe Obi, the ministry said yesterday that its officials and those of the Nigerian Civil Aviation Authority (NCAA) met with officials of the airline and deliberated on safety issues and Dana's operations.
Dana Air on Saturday had an incident involving one of its aircraft which recorded emergency landing in Abuja fully laden with passengers when its battery power exhausted, a situation that would have cut off all the electrical system in the aircraft.
Annoyed by the incident, the Minister of Aviation, Stella Oduah ordered the airline to suspend flight operation.
But Obi said: "Officials of the Ministry of Aviation and the Nigerian Civil Aviation Authority (NCAA) met with the management team from Dana Airlines today (yesterday) in Abuja and deliberated on some safety issues in connection with the operations of the airline.
"At the end of the meeting, the suspension of operations of the airline which took effect last Saturday was lifted. The airline is to resume normal operations immediately. However, the particular aircraft which had a snag over the weekend is to remain grounded until after its airworthiness has been re-certified by Boeing, the manufacturer of the aircraft."
Below is Dana Air press statement on resumption of flight signed by the Head, Corporate Communications, Dana Air, Tony Usidamen and sent to Peculiar Magazine, the company's official publicist to be press released and sent to customers on their mailing list.
"Dear Esteemed Guest,
We are pleased to announce that the airline has been given approval to resume flight operations with immediate effect following the temporary suspension of our operations on Saturday, 16th March, 2013.
Scheduled flights will now commence on Tuesday 19th March, 2013 on the Lagos-Abuja-Lagos route.
Once again thank you for your patience and understanding and we look forward to having the pleasure of welcoming you onboard.
Dana Air Management"
Many in the industry were concerned over what would happen to domestic travel in Nigeria if Dana and Aero stopped operations simultaneously, leaving only three airlines in service, which many industry observers said could lead to a hike in air fares. Once again Dana air has resumed flight operations and flight are available to desired destinations as usual – Peculiar Magazine, Dana air publicists.
Thank you for your time.