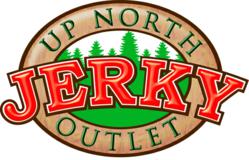 Authentic beef jerky from Northern Michigan is world famous for its unique flavor and texture
Troy, MI (PRWEB) March 21, 2013
The Up North Jerky Outlet has announced a spring sale featuring famous beef jerky flavors like cherry maple, blazin' hot, peppercorn and honey barbeque. Beef jerky lovers can get their favorite flavors at a 10% discount starting the March 20, 2013. The 10% discount is good for all products featured on the website at http://www.upnorthjerky.com. Authentic beef jerky from Northern Michigan is world famous for its unique flavor and texture.
Beef jerky is fast becoming one of the most popular snack foods in the country. There has been a remarkable increase in the number of beef jerky producers and the variety of flavors available. A large segment of the snack food market desires a premium beef jerky. They want an authentic smoked meat snack that is higher in quality than the commonly available commercial products. This is the market segment filled by Up North Jerky.
Cherry maple beef jerky from Up North Jerky is an example of the truly unique new varieties now available on the national market. Choice cuts of whole muscle meat are marinated with special spices then naturally smoked to perfection. The beef jerky has only a hint of sweet to go along with the rich texture and beefy flavor. Cherry maple beef jerky retains a moist and tender texture that sets it apart from commonly available beef jerky products.
Cherry maple beef is just one of the authentic flavors available online. Other flavors include original, honey barbeque, teriyaki, sweet n hot, blazing hot, peppercorn and cherry-teriyaki. Up North Jerky is the beef jerky dream shopping experience. Located in Michigan, Up North Jerky distributes genuine "Up North" style jerky nationally to retail and dedicated outlet stores, in addition to the online store at http://www.upnorthjerky.com.
Contact Section
Up North Jerky Outlet
1437 Rochester Rd.
Troy, Michigan 48083
SALES(at)UPNJO(dot)COM