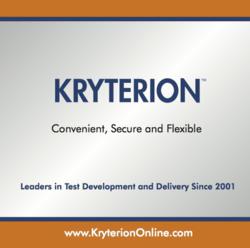 "Online learning enables every individual the ability to fulfill their potential." - William Dorman, CEO
Phoenix, Arizona (PRWEB) March 28, 2013
Kryterion Incorporated CEO William Dorman will attend UPCEA annual conference in Boston, Mass. April 3-5, 2013. The online test delivery and development company will showcase new products and developments in online proctoring and authentication at the conference exhibition.
The mass adoption of online learning has generated high-demand for education technology tools that can maintain and improve academic integrity in 21st century digital learning. Dorman has worked in the distance education global market for the majority of his career and is thrilled to see the industry develop. Online enrollment has tripled since Kryterion was founded in 2001 and will continue to grow.
"Online learning enables every individual the ability to fulfill their potential," says Kryterion CEO William Dorman. "I wanted to provide solutions that can facilitate the delivery of a quality education for all people."
Partnerships between institutions and technology developers are becoming increasingly critical to educational programs. The development of massive open online courses (MOOCs) is generating mainstream attention to the burgeoning education technology industry. Kryterion continues to collaborate with partnership institutions like the University of Florida to build world-class online programs and assessment tools.
"Academic integrity is a priority for our distance learning programs," says University of Florida's Dr. Kenneth Nanni. "Kryterion gives us access to collaborate and exchange ideas and information to help develop these world-class solutions."
Kryterion was the first to bring online proctoring to the global market and was awarded the United States Distance Learning Association Award for 21st Century Distance Learning and continues to develop cutting-edge technologies for test development and delivery.
ABOUT KRYTERION
Kryterion is a full-service test development providing world-class secure testing solutions. Kryterion serves the association, technology and distance education markets. Our solutions include: online proctoring, authentication, exam management, security, real-time test delivery and development, psychometric services and professional services.
Follow Kryterion, Inc on Twitter @kryterion
Find Kryterion, Inc. on Facebook at https://facebook.com/kryterion