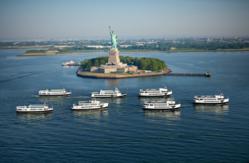 New York, NY (PRWEB) March 20, 2013
Interior Secretary Ken Salazar and New York Senator Charles Schumer announced Tuesday that the Statue of Liberty will reopen on July 4, 2013.
Liberty Island closed on October 29, 2012 due to Hurricane Sandy, but now the icon of freedom will be opening symbolically on the day that America declared its own freedom.
"We are pleased that the NPS has announced an official reopening date for the Statue of Liberty along with an enhanced visitor experience with reduced wait times. We are looking forward to putting our crew back to work carrying visitors to the world's greatest symbol of liberty. In the interim, we offer a great cruise to Lady Liberty with uniformed rangers on board departing frequently from Battery Park," says Statue Cruises CEO/Founder Terry MacRae.
Lady Liberty's re-opening means a boost for the local economy, the restoration of several hundred jobs and thousands of more visitors per day just in time for the peak summer travel season.
In anticipation of the reopening, Statue Cruises is expanding its daily Statue of Liberty Harbor Tours, giving visitors even more opportunities to enjoy the closest views of the Statue of Liberty until the official opening date. With up to 20 departures a day, seven days per week, the tours offer visitors and locals exceptional flexibility and choice. Statue Cruises has a tour to fit everyone's schedule.
Passengers experience the closest possible views of famed New York City landmarks and may even interact with National Park Service Rangers on-board. Rangers will sail on every harbor tour to lend their valuable expertise to passengers. Sites include the Statue of Liberty, Ellis Island, the 9-11 Memorial, the South Street Seaport, Governors Island and the Brooklyn Bridge, among others. The hour-long tours depart from Battery Park at the foot of Manhattan every 30 minutes, seven days a week.
Tickets for the narrated sightseeing tours are $24.00 (adults); $17.00 (seniors) and $12.00 (children). Tours depart daily from Battery Park at the foot of Manhattan. Prior to embarking, passengers can purchase tickets online at http://www.statuecruises.com, by phone at 201-604-2800, or at the seawall in Battery Park. For more information, please visit http://www.statuecruises.com.
About Statue Cruises
Statue Cruises, the official concessioner to the National Park Service, is the premier harbor cruise operator in New York Harbor, sharing the sights of New York with over 4.0 million annual visitors from around the world. For more information visit: http://www.statuecruises.com/press.aspx.