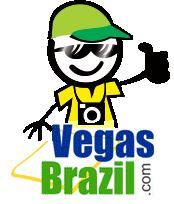 Las Vegas, Nevada (PRWEB) March 21, 2013
With more international flights into Las Vegas's McCarran International than ever, more and more international visitors are making Las Vegas a top destination. Although, a Brazilian based airline hasn't made Vegas a destination yet, plenty of U.S carriers are offering more service to and from Brazil, bringing in more Brazilian tourist to Las Vegas than ever before.
VegasBrazil.com offers a one stop guide for everything having to do with Las Vegas. The website is in the native language of Portuguese to appeal to those not fluent in English. It is the only site of its kind. The site is robust with guides to events, attractions and the best restaurants in town.
One such attraction VegasBrazil.com is excited to be a part of is the first annual Vegas Loves Brazil festival. The event is a Brazilian cultural festival taking place on April, 13th at the Clark County Amphitheater. The festival will highlight the exciting world famous cultures of Brazil, including Brazilian dancing, music, food and fun activities for children of all ages.
In addition to being an online directory in Portuguese, the site also hosts original articles about premier, exciting destinations in and around Las Vegas, entertainment, restaurant and shopping guides and a news section featuring the latest current events from around the world.
The Brazilian culture is known for their addiction to fun, music and dancing. Las Vegas is the perfect spot to continue and expand on that culture and VegasBrazil.com is a perfect guide to help them along. Las Vegas is overflowing with a million things to do. VegasBrazil.com narrows it down with an easy to use website packed with the most relevant information that appeals to the Brazilian tourist and the occasional new resident to Las Vegas.