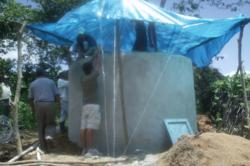 On March 22, for every new follower we get on the Santevia Twitter account we will donate $1 to a water project for a community in need — Lindsay Gaudette
Delta, British Columbia (PRWEB) March 22, 2013
What is World Water Day? It's a time to reflect on just how vital access to healthy, clean drinking water is, and ways we can ensure everyone on the planet has the same access to this precious commodity. Santevia Water Systems is pitching in to support the cause through social media, said Santevia marketing manager Lindsay Gaudette.
"On March 22, for every new follower we get on the Santevia Twitter account we will donate $1 to a water project for a community in need," said Gaudette. "We're hoping the social community will help us reach our $10,000 goal."
Existing followers of the business that provides water filtration and re-mineralization systems can also participate by re-tweeting a message that can be found on the company's blog at http://www.santevia.blogspot.ca or their Twitter account at http://www.twitter.com/@Santevia.
The campaign is part of the Santevia Gives Back philanthropy program that helps people in need around the world. Santevia has helped build clean water reservoirs for villages in Uganda, Haiti and the Dominican Republic, and a well, water storage tanks and washroom facilities for an orphanage in Thailand. But their philanthropy extends beyond water — recently, SGB provided funds to an orphanage in Indonesia to purchase a rototiller plow so the residents could become self-sufficient. In February, SGB partnered with a Canadian non-profit organization called the Amarok Society to open a new school in Bangladesh that educates impoverished mothers.
About World Water Day
World Water Day is held annually on 22 March as a means of focusing attention on the importance of freshwater and advocating for the sustainable management of freshwater resources. An international day to celebrate freshwater was recommended at the 1992 United Nations Conference on Environment and Development (UNCED). The United Nations General Assembly responded by designating 22 March 1993 as the first World Water Day.
About Santevia
Santevia Water Systems Inc., located in Delta, B.C. Canada, manufactures and distributes water filtration and mineralization products creating alkaline water in convenient, eco-friendly and cost-effective ways. Santevia revitalizes tap water by adding essential minerals creating alkaline, pH balanced water helping your body combat disease and stay healthy. Santevia also donates 10% of all profits to the Santevia Gives Back program which supports projects providing food, shelter, education and clean drinking water to those less fortunate.