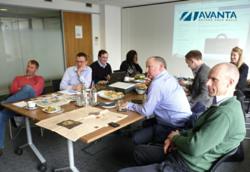 (PRWEB UK) 21 March 2013
• Outcomes more positive than negative for UK SMEs

Devil will be in the detail on unlocking funding
NI rebate step forward for job creation by SMEs
Positive measures for UK SMEs have come out of today's Budget announcement from Chancellor George Osborne, but access to funding has not been addressed in enough detail.
This was the feeling of the Avanta Situation Room – a group of the leading workspace provider's directors - who met to discuss live the outcomes of Osborne's statement this afternoon.
The most significant Budget measure for SMEs was the announcement of an employment allowance to help small firms. Up to £2,000 will be taken off employer's National Insurance bill by the Government. This measure will benefit 450,000 small businesses in the UK, meaning that a third of the UK workforce will not pay "jobs tax" (employer's national insurance).
Other measures affecting UK SMEs included the announcement of an extra £3bn of infrastructure spending, and the cutting of Corporation Tax to 20%. Alan Pepper, CEO of Avanta Managed Offices, comments: "Cutting Corporation Tax sends a great message and encourages aspiration, but changes to National Insurance are what will practically affect whether small businesses will grow and create jobs."
"Low growth forecasts will not greatly affect SME business planning" says David Alberto, Founder and Director, Avanta Managed Offices. "I have every inclination that SME's will very much 'get on with it', as is the SME mentality.
"The biggest concerns for UK SMEs are costs of employment, the tax burden and funding working capital".
Alan Pepper, comments: "Funding access for growing businesses was not widely addressed in the speech but hopefully there is more detail to come".
"SMEs want to invest and grow but are often unable to do this. Osborne began by identifying this as a Budget for those who want to start their own businesses but there was little said about the Funding for Lending scheme so the devil will be in the detail. However, outcomes were indeed more positive than negative for growing businesses."