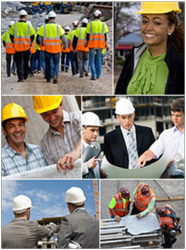 There are a lot of opportunities for individuals with training in BIM, CAD or other technologies to find jobs in the construction industry right now… We are working to promote these high-quality jobs as well as the qualified individuals.
Fort Lauderdale, FL (PRWEB) March 21, 2013
Construction Connection will launch a new campaign to promote increasingly important Building Information Modeling (BIM) certified individuals seeking employment and available BIM-related jobs. The construction networking and hiring website is already a leader in the industry as the place for companies and individuals to make connections and find valuable resources; their new campaign seeks to further expand their reach into one of the fastest growing technologies in construction: BIM.
Building Information Modeling (BIM) is a term that refers to advanced software that construction professionals use to render detailed three-dimensional drawings of buildings. Contractors can use BIM across an entire project to show a building's structural, electrical, plumbing and other crucial details. The advanced software also extends beyond the three dimensional rendering to incorporate both time and cost. With these added capabilities, contractors and business owners can produce more sophisticated designs and more accurate estimates and timetables for their clients, which can save everyone time and money. BIM software is also designed to take into account environmental impact, so buildings are more energy-efficient and eco-friendly.
The holistic approach that BIM takes has also opened the door for the integration of other software such as scheduling and management software. Tekla, a leading software company offering solutions specifically for the construction industry, is also leading the way in the development of integrated BIM scheduling and management software solutions. Autodesk Revit products are also at the forefront of the BIM industry. Their software focuses on helping architects, engineers and contractors produce higher-quality designs and more energy-efficient buildings, which lead to more accurate construction estimates and schedules. Both Tekla and Autodesk are at the head of this growing industry, which is producing more and more construction jobs across all levels. Construction Connection Co-Founders Suzanne Breistol and Kent Leighton are eager to raise awareness among the website's members and extended community of the prominence of these jobs in the construction industry.
When an individual completes their free registration and profile on ConstructionConnection.com, there is a section in the profile that allows the individuals to indicate if they have BIM, CAD or other technical specialties and their level of proficiency with each, including specific software experience. Then, with the help of the site's patent-pending job matching system, the individuals will be able to find and apply specifically to jobs that meet their skill-levels. Currently, there are many available jobs on ConstructionConnection.com for individuals in the construction industry who have experience using BIM software. There are companies across the country seeking project managers, bookkeepers and estimators, BIM (MEP) coordinators, mechanical engineers, construction management analysts, electrical engineers, jobsite superintendents, plumbing engineers and many others. Though the list of available jobs is growing, Breistol and Leighton hope their new campaign will increase the number of job matches.
"There are a lot of opportunities for individuals with training in BIM, CAD or other technologies to find jobs in the construction industry right now," says Breistol. "Unfortunately, a lot of people don't know where to find them. We are working to promote these high-quality jobs as well as the qualified individuals because our goal, as always, is to help people in the industry find the right job or employee for their specific needs."
To stay on top of the software revolution, Breistol attended the American Society for Professional Estimators' (ASPE) presentation on BIM on March 19. At the event, Director of the Virtual Design and Construction for Stiles Corporation Kris Lengienza spoke about the growing construction industry trend and the importance of BIM. Breistol attended to learn more about the types of popular BIM construction jobs, the projected growth of these jobs and to find more ways to help BIM-certified professionals market themselves.
"Jobs related to BIM are here to stay, so we want to make sure people with experience using the software are promoting their specialized skills," Breistol explains. Both Breistol and Leighton also know that there are pushes from government officials to turn all public construction projects into BIM projects, which could mean in huge increases in technical jobs in the industry. "We want people to know how important this technology is, and to encourage both individuals and companies to market their knowledge of it. As we all come to rely on the use of technology to streamline our business practices, many construction companies who have adopted BIM will be ready to bid on more contracts and take on more projects."
ConstructionConnection.com was created out of a need for a more effective and streamlined way for construction industry professionals to get matched with the right industry jobs and with the right industry opportunities. The founders of Construction Connection, both industry professionals themselves, listened to both company and individuals' dissatisfaction with the traditional job boards, the paid resume blasts, the overpriced resume services and overall lack of sympathy toward the individual candidate. They also listened to the dissatisfaction from companies who post jobs only to get many irrelevant results or have to purchase high priced ads to showcase their company. Construction Connection is a patent-pending, one-of-a- kind profile creating / match-making system. The system delivers effective results. Construction Connection saves time, money and aggravation by matching people to people, people to companies, companies to people, and company to company.