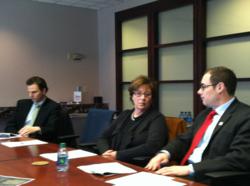 Cincinnati, OH (PRWEB) March 20, 2013
The Strive Partnership, a subsidiary of KnowledgeWorks, today announced in its fifth annual report card that 89 percent of the outcomes of student success are trending up, and that more work is underway to maintain the progress of its partners by aligning additional resources to what works.
Achievement is trending up in 89 percent of these key academic outcomes -- which include kindergarten readiness, fourth grade reading, eighth grade math, high school graduation, college preparedness, and college enrollment, retention and completion – an increase from 81 percent in 2011, and 74 percent in 2010 – the result of the work of many partners and partnerships.
The Strive Partnership Report Card is an annual update on partnership efforts, cradle to career, across eight shared outcomes in the cities of Cincinnati, Covington and Newport.
"Student achievement throughout the partnership continues to improve, yet we have a long way to go," said Kathy Merchant, President of The Greater Cincinnati Foundation and chair of The Strive Partnership. "Our community has wonderful partners, and a real commitment to kids and the use of data to ensure we're investing in what works best for them."
One exceptional finding is fourth-grade reading at Cincinnati Public Schools (CPS), which has been trending up significantly. In fact, fourth-grade reading achievement at CPS has increased 16 percentage points since the baseline year in 2004-05. This is good news for kids.
"We're delighted to see this progress, although we know we have many youngsters who still need additional support to achieve early reading success, which is key to successfully graduating more of our students," said Mary Ronan, Superintendent of Cincinnati Public Schools. "Our job, working with our many partners, is to make sure each of these youngsters receives the support they need."
Other data highlights include:

Kindergarten readiness at CPS is at 55 percent for the 2012-13 school year, and has increased 11 percentage points since the baseline year (2005-06).
First to second year college retention for local students has remained relative steady since the baseline year at the two-year institutions, and increased at the four-year institutions. Cincinnati State and Gateway are at 56 percent and 67 percent, respectively; and NKU and UC are at 65 percent and 86 percent, respectively.
Aligning Resources to What Works
Many participating schools are now using data from the Learning Partner Dashboard (LPD) to inform their work and better meet the needs of our students. For example, Pleasant Ridge Montessori carefully examined data to ensure that targeted students were benefiting from volunteer tutoring. By doing so, the school was able to identify ways to improve the tutoring program and saw significant academic improvements for the students involved. Students who were in the daytime volunteer tutoring program in 2011-12 improved 204 points on their state exams on average, compared to 70-75 points school-wide. The school also jumped two state rating categories – from Academic Emergency to Continuous Improvement. District-wide data, also leveraged through LPD, confirmed the impact of tutoring, and as a result, the partnership recruited 950 tutors this academic year through its Be The Change initiative.
There are some gaps in data reporting for Covington and Newport Schools in this year's report. Kentucky is adopting Common Core standards in reading and math. It's the first state in the nation to adopt these standards and will be the first to report test results. Kentucky is reporting new interim achievement test data this year, making the data incomparable to previous years. Additionally, the state moved to a new graduation rate calculation last year and kindergarten readiness assessment this year.
In order to increase the pace of progress, the partnership is pursuing the following:
Read On! and Be The Change: Working to improve early literacy success, the partnership has joined others to launch Read On!, a multi-year effort further strengthen school readiness and early grade-level reading success. Part of this effort will include the expansion of Be the Change, a tutor recruitment initiative that will focus more on early reading success and now include a new tutoring "app" to better track progress and student success.
Talent Pipeline Initiative: The Cincinnati USA Regional Chamber, Partners for a Competitive Workforce, and The Strive Partnership will launch the Talent Pipeline Initiative to strengthen career exploration and readiness to prepare students for in-demand jobs.
Race and Equity Taskforce: A cross-sector taskforce has been launched by the partnership to develop policy recommendations addressing racial and economic gaps in academics. This will be important for those collective efforts to improve outcomes for every child.
"The good news is that more kids are doing better," said Greg Landsman, Executive Director of The Strive Partnership. "As a community, though, we need to own that fact that we have a long way to go, and together, we need to work harder to ensure every single child in our region succeeds."
Founded in 2006, The Strive Partnership unites leaders from various sectors to improve student outcomes in the urban core of Greater Cincinnati. The partnership accomplishes its work through collaborative action. The Strive Partnership is a subsidiary of KnowledgeWorks.
KnowledgeWorks is a social enterprise that seeks to prepare students for college and careers in the United States by incubating innovative schools, influencing education policy and engaging in education research and development. The KnowledgeWorks portfolio includes New Tech Network, EDWorks and Strive.