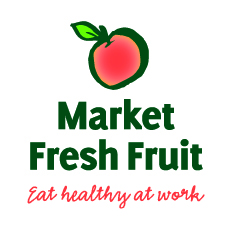 Having available fresh fruit at work can increase morale, boost productivity and improve health
Seattle, Washington (PRWEB) March 21, 2013
In observance of Colorectal Cancer Awareness Month now is a great time to reflect on how diet can significantly impact health and that fresh fruit is an essential weapon in helping the fight against cancer. Eating fruit and vegetables throughout the workday provides the necessary nutrients and vitamins to boost the body's immune system. In a recent article published by the American Cancer Society, the risk of colorectal cancer is reduced by decreasing the amount of red meat consumption and increasing a diet of fresh fruit, vegetables, and whole grains. The article explains that adding exercise and cutting down on processed foods and alcohol also decreases the risk of the disease.
"I certainly encourage a lower-fat diet and maintain a healthy weight with limited saturated fat and high in fruit and vegetables," states Dr. Charles Reninger, medical oncologist and hematologist in a recent article published on pennlive.com. Reninger adds that obesity may also be a contributing factor to colorectal cancer.
Tom O'Connor, owner of Market Fresh Fruit | Eat Healthy at Work, believes that "having available fresh fruit at work can increase morale, boost productivity and improve health." The company provides weekly fruit delivery to the workforce, of which many of their fresh fruits contain cancer fighting flavonoids, according to a recent study at Jagiellonian University Medical College in Poland. Market Fresh Fruit prides themselves on providing a variety of fresh fruit that includes a wide range of apples which changes weekly based on 'what's fresh.' This week's apple is "Gala" - WAXF top grade.
Market Fresh Fruit is a Seattle, WA based company that delivers premium quality, local fruit to the workplace. Since 2010, Market Fresh Fruit is Seattle's only taste-tested fresh fruit delivery service and is recommended by clients at Fisher Radio, Creative Circle Staffing, and Crane Aerospace. Market Fresh Fruit is owned by Tom O'Connor. Every week their Fruit-at-Work program delivers just delicious fruit to over 8,000 Seattle area workers helping employers increase productivity and morale, while lowering employee benefit costs by offering workers a healthy snack over candy or empty white carbs like muffins or bagels.
For more information on Market Fresh Fruit and for a free fruit tasting, please contact Tom O'Connor at 206-304-2464. Also visit the website at marketfreshfruit.com for more information.