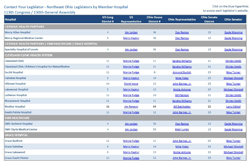 Cleveland, Ohio (PRWEB) March 23, 2013
The Center for Health Affairs' contact your legislator webpage has recently been updated and aims to make communication with lawmakers easier. Visitors will find contact information and direct links to Northeast Ohio legislators' websites from this updated webpage. The list of legislators is organized by The Center's member hospitals, making communication with lawmakers about important policy issues affecting your hospitals and community, such as Medicaid expansion, easier than ever.
On average, Congress receives over 200 million emails a year, so in order for one's message to make it through the clutter, it must be noticeable.
Writing a letter is a popular mode of communication with lawmakers, but other options include calling, emailing or even meeting with your legislator under certain circumstances. When writing a letter, this list of suggestions can help improve the effectiveness of the message:

Be courteous, to the point, and include key information, using examples to support a position.
Address only one issue in each letter and keep the letter to one page, if possible. When writing to lawmakers, remember to tell a story.
Explain how this issue is affecting patients and the community in personal terms, choosing words carefully.
Taking the time to express an opinion about key issues in the community by opening the line of communication with lawmakers is crucial.
For more information on public policy and advocacy visit http://www.healthpolicyissues.com, or contact Deanna Moore at deanna.moore(at)chanet(dot)org or 216.255.3614.
##
The Center for Health Affairs is the leading advocate for Northeast Ohio hospitals, serving those organizations and others through a variety of advocacy and business management services. The Center also works to inform the public about issues that affect the delivery of health care. Formed by a visionary group of hospital leaders 96 years ago, The Center continues to operate on the principle that by working together hospitals can ensure the availability and accessibility of health care services.