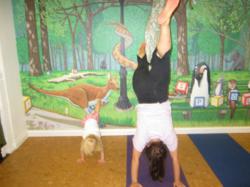 Come to our mini-course and have the opportunity to teach children yoga all summer long!
New York City, New York (PRWEB) March 22, 2013
Calling all moms, babysitters, nannies, teachers, students, yoga instructors, and anyone else who loves children and yoga...
Come join Lil Yogi's NYC for their first-ever 3-Day children's yoga certification mini-course and learn how to teach children of all ages yoga.
As a children's yoga and fitness company, Lil Yogi's NYC, was designed in order to introduce the fundamentals of yoga to children while they're young, open-minded, and carefree. Lil Yogi's NYC believes that by engaging the children's imagination as much as focusing on their physical poses, we can create a nurturing atmosphere where children have the freedom to learn, experiment and flourish. With so many sedentary activities available for children, Lil Yogi's NYC is focused on healthy activities that stimulate the body as well as the mind.
Mini-course participants will learn how to interact and engage with children through an introduction to the fundamentals of yoga. You will learn how to create a positive, playful and non-competitive space where children can explore their mind, body and spirit. Additionally, you will learn innovative techniques for how to help children become healthier, stronger and more relaxed through the practice of yoga. But best of all, participants will have an opportunity to join the Lil Yogi's NYC team; and become a kid's yoga instructor this summer!
Upon completion of the mini-course, participants who master the course curriculum will be invited to come and observe two of our kid's yoga classes. And then, provided that such participants demonstrate reliability and a nurturing demeanor, they will be guaranteed a spot on the Lil Yogi's NYC instructor sub list; and will be invited to assist in teaching of some of our many classes held throughout Central Park all summer long.
The Mini-Course will take place on three consecutive Mondays in April (April 8th, 15th and 22nd) from 7:00pm-9:00pm. Do not miss the chance to join Lil Yogi's NYC in what is sure to be an unbelievable opportunity to gain invaluable skills.
Check out the posted video to see if what teaching kids yoga is all about. This video was taken by a parent whose child took one of our yoga sessions last spring at the Bronx Zoo.
For more information on pricing and location please email us at lilyogisnyc(at)gmail(dot)com.