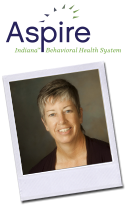 Noblesville, IN (PRWEB) March 22, 2013
A licensed psychologist and HSPP, Dr. Jody Horstman joined Aspire Indiana in March of 2012 and now serves as Senior Director of Youth & Family Community Services in the organization's Carmel office. Prior to joining Aspire, Dr. Horstman has served as a clinical therapist/psychologist, an outpatient manager, and director of child & adolescent services at an Indiana community mental health center for 22 years.
Dr. Horstman has extensive experience working in collaboration with family- and youth-serving organizations in the development and implementation of programs. These programs and services include school-based services, alternative classrooms, Wraparound and CA-PRTF, therapeutic foster care, independent living services, home-based services, therapy services in partnership with residential providers, and general outpatient services.
Horstman worked closely with Indiana's Department of Child Services (DCS) in implementing the DCS Medicaid Initiative. Dr. Horstman also has extensive experience in disaster mental health, having served with the American Red Cross in New York following 9/11, as part of the Indiana Task Force that assisted Mississippi following Hurricane Katrina, and most recently worked in Haiti following the 2010 earthquake. She is a member of Indiana's Disaster Mental Health Team and a trainer of Psychological First Aid (PFA).
Dr. Jody Horstman received her Bachelor of Arts Degree in Behavioral Science from California State Polytechnic University and her Master of Arts and Doctoral Degrees in Clinical Psychology from the United States International University in San Diego, California.
Aspire Indiana is a private nonprofit organization that provides therapy, recovery and employment services to people living with behavioral and mental health disorders, addictions and substance abuse. Aspire offer services to families and individuals of all ages at eleven locations conveniently located throughout Central Indiana, including Madison, Hamilton, and Boone, Counties and Washington and Pike Townships in Marion County.