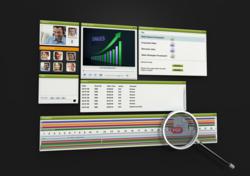 A virtual conference is often tedious and not as "interactive" as it would seem.
(PRWEB UK) 21 March 2013
A new "Remote Presence Device" featured at the recent "SXSW Trade Show" in Texas generated huge interest and could well become a much-sought-after virtual conference supplement for the conference and exhibition industry.
At first glance, Suitable Technology's "The Beam" doesn't appear especially impressive: a flat TV monitor on a stand with wheels. But when it's fired up, it is apparently very impressive.
The conventional wisdom of our times holds that the Internet has inaugurated an era of virtual collaboration, enabling people to work together around the world and around the clock. But anyone who has tried staging a virtual conference or exhibition featuring a keynote presenter from far, far away will know that it doesn't always work like that. A virtual conference is often tedious and not as "interactive" as it would seem; the bonds of trust that are facilitated by real face-to-face exchanges are often weaker in virtual exchanges, informal communication is limited or lost, and, frankly, remote team members can all too easily be forgotten.
In theory, The Beam puts an end to all that. When powered up, the eye-level TV monitor appears to contain the head of another person, and the feeling of live interaction is astonishing. Not only that, but the person "in" the monitor can see the people he's addressing and the room he's in. At the SXSW show, the presenter in the monitor was actually 1700 miles away from the people she was talking to – but no one would have thought it.
Tardieu argues that this new development comes with a hefty price tag and for SMEs, it's way out of their budget. He proffers their Wavecomms web-based video conferencing system and makes this comparison.
The Beam features - device
17-inch screen. Top speed of 1.5 m/s (3 mph). Two wide-angle HD cameras. Six-microphone array with noise reduction and echo cancellation. Powerful built-in speaker. Two dual-band radios. Industry-standard encryption
Wavecomms features - device
No need for new hardware – Wavecomms uses an individual's own desktop or laptop. All that's required is a webcam and good connection to the internet.
A mobile device version is planned.
The Beam features - software
Intuitive mouse/keyboard driving interface. Wide field of view. Full screen option. Available on both Windows and Mac. Full audio control.
Wavecomms features - software
Ultra low cost – there are no set up costs and users only pay for the bandwidth they use
Completely portable and highly flexible. Can be run from anywhere (even Starbucks or your hotel room), anytime, with any number of participants. Allows for the uploading of any asset (Microsoft Office Suite, Jpegs, Video etc). Maintains all assets in a timeline for ease of access at any time post conference. The system also maintains a video recording of the conference in the timeline Provides for any participant to interact with these assets e.g. a new brochure design can be discussed and pasted onto the white board for participants to add their comments directly. Allows participants to exchange notes in a chat room to any individual privately or to all participants in the conference. Provides almost any interaction, just as you would have in a face to face meeting - but from any location around the world.
The Beam features - software
Drive into the dock
LED charging light
Purchase additional docks for convenience
Wavecomms features - software
No need for a docking station
The Beam features - costs
UD$ 18,000
Wavecomms features - costs
No set up or hardware costs.
Cost of a conference @ approx. £4 per participant hour e.g.£4 x 5 participant locations = £20 for a video conference
For those seeking a vividly interactive effect in their virtual conference, this technology will take some beating. It's like everything, we'd all like a Dyson @£300 but a Henry @£150 does a pretty good job.
And for SME's Wavecomms provides a very low entry level into video conferencing (and without having to invest in hardware, software and maintenance).