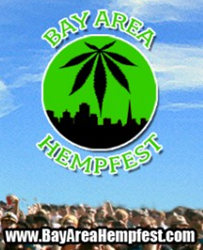 "By serving as a sponsor of the Bay Area Hempfest, we hope to spread the PotLocator name and extend the value of educating the community on the upsides of the hemp plant and it's cousin, cannabis." - John Nicolazzo, C.O.O of PotLocator
(PRWEB) March 23, 2013
PotLocator.com, the medical marijuana industry's top-tier medical marijuana dispensary locating service, has announced its plans to advertise at one of the more unique cannabis-related festivites on the West Coast, the Bay Area Hempfest. By featuring banners, informative brochures and an immense amount of goodies, attendees of this well-known hemp festival will immediately become more knowledgeable and accustomed to the PotLocator name. If unfamiliar with PotLocator, the company features geo-targeting map services that locate the closest medical marijuana dispensaries, marijuana delivery services, smoke shops and hydroponics shops for inquiring medical marijuana patients in legal states.
The Bay Area Hempfest is one of California's largest upscale annual gatherings that helps support and promote the necessary awareness of the hemp plant, as well as the advocating of the decriminalization of hemp's cousin plant, Cannabis. The festival's main goal is to educate the public on the abundance of potential benefits offered by the Cannabis plant, such as its medicinal value, industrial uses, economically stimulating potential and desperate need for reform. Attendees at the festival are called upon to listen with open ears about the reforming of the country's laws that are placed upon hemp and cannabis, all while bringing them together in a sense of unity and hope. Their goal is to bring together the green-friendly community of California, and create a positive message that will further help educate them.
Known for its immense amount of fun-filled festivities, the Bay Area Hempfest never strays from providing festival attendees with an exceptional time. Features of the festival include a Canna Cup, or competition that is meant to highlight, showcase and educate the general public to the wide varieties of cannabis-related medicinal remedies available to patients, caregivers and healers who are directing a patient's care. This year specifically, the Bay Area Canna Cup will present awards to the best judged Indica, Sativa, Hybrid, CBD, edibles and various concentrates. Other features of this festival include prominent guest speakers, multi-talented performers, and the crowning of a new Miss Hemptress! The Miss Hemptress competition features some of the state's most attractive and bright women, all of which are competing to become the next Miss Hemptress. The first prize winner and runners up will receive a spot in an upcoming major medical marijuana magazine photo shoot.
By providing the center stage spotlight to some of the many reputable canna-businesses in the state, PotLocator hopes to expand its fan base and attract registered medical marijuana patients to its website's amazing functionality. The Bay Area Hempfest calls attention to canna-businesses through advertising banners, vendor booths, live demonstrations and the message of positivity. Specifically set aside for California Proposition 215 patients, The Bay Area Hempfest presents a special designated area for these patients to legally user their medicine, learn about new products, try new products and congregate in an overall safe and discreet location.
The Bay Area Hempfest 2013 will be held on August 9th-11th in Richmond, California and will be sure to supply its abundance of between six and ten thousand attendees with an outstanding experience. PotLocator is honored to be recognized as a sponsor for such a prestigious and compassionate event that compiles the best of the industry's best all in one location. With the sponsorship of such a well-known festival, PotLocator is showing no signs of letting up in the quest to take the industry and its patients by compassionate storm.