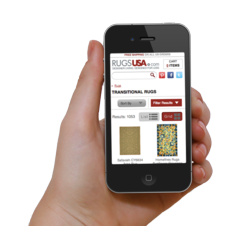 We were able to draw on the deep mobile expertise of Unbound Commerce, creating a very compelling mobile customer experience.
Boston, MA (PRWEB) March 22, 2013
Leading rug and home furnishing retailer RugsUSA has risen to the top of the online field by offering a wide variety of products at great prices— using special promotions, free shipping and exclusive discounts to drive awareness and traffic.
Today, RugsUSA is pleased to announce they have extended their reach into the booming mobile commerce space via the launch of m.rugsusa.com. The new integrated mobile site is designed to capture the here-and-now power of mobile and provide a mobile experience for web traffic increasingly originating from smartphones.
RugsUSA has an increasingly mobile customer base and wanted to allow their customers to try on the best possible mobile commerce experience. According to Koorosh Yaraghi, CEO at RugsUSA, "our new mobile site lets us connect with customers while they are rug shopping in traditional stores." By bringing their offerings into the bricks-and-mortar settings, RugsUSA can offer their well-priced products to customers at the times they are most likely to purchase.
"We were able to draw on the deep mobile expertise of Unbound Commerce, creating a very compelling mobile customer experience," said Mr. Yaraghi. "Our new mobile-optimized site leverages all of our in-place ecommerce systems, without any impact on our IT or our operations. We're very pleased with the project and with the results we've seen."
The new mobile site includes RugsUSA's promotional offers and product-specific social media linkages. Customers can also share product details by email. Registered customers get streamlined checkout by signing in and having their address information automatically entered for them.
About RugsUSA
RugsUSA, Inc. is one of the nation's largest online rug and home furnishings retailers, offering a broad assortment of moderately priced rugs, lighting, bedding and furniture with emphasis on national and regional name brands. As of today, the Company sits at #338 on Internet Retailers Top 500 list. RugsUSA is headquartered in New York City.
About Unbound Commerce
Unbound Commerce provides a platform solution to retailers and brands seeking to capitalize on the booming consumer adoption of mobile and social commerce. Internet Retailer identified Unbound Commerce as the #1 mobile commerce solution provider. Retailers of all sizes choose Unbound for mobile commerce, commerce apps, tablet commerce, and Facebook stores. Unbound's unique integrated approach requires as much or as little IT involvement as desired. For additional information, please visit http://www.unboundcommerce.com.