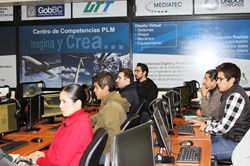 Tijuana, Mexico (PRWEB) March 21, 2013
One of the country´s top candidates to support this growth is Baja California's aerospace cluster, comprised by over 52 companies that represent 25% of Mexico´s industry. Currently the state is preparing to overtake other aerospace destinations on talent availability; three of its most prestigious universities have implemented specialized training programs for the aerospace sector developing a large base of engineering talent, meeting industry requirements and aligned with the national industry forecast.
The State University of Baja California or UABC, an iconic educational institution in the state, launched five years ago The Center for Aerospace and Engineering Technology. Today, its first class of 14 engineers will be graduating on December 2013, besides the number of enrolled students on the Aerospace Engineering program has greatly increased. The engineering campus has one of the best equipped composites laboratories, built in collaboration with Honeywell Aerospace. One of the Center's recent achievements is the launching of an experimental rocket made by students in collaboration with experts of San Jose State University and supervised by NASA.
Cetys Universidad, an Institution certified by The Western Association of Schools and Colleges (WASC), offers an engineering program focused on Aerospace and a Master's in Aerospace Engineering. Annually over 50 students enroll in the program, and 14 of them graduate as Aerospace Engineers. This university is currently working on building a prototyping lab for scale aircraft and automotive modeling, with that purpose it is developing three research teams integrated by students, teachers and local industry engineers.
At the technical level,Tijuana Technological University (UTT as its acronym in Spanish) has a strong linkage program with aerospace companies. The institution developed mechatronics engineering program as well as two professional technician licenses in mechatronics and aerospace harness manufacturing, customized to the local industry needs. Around 100 students enroll yearly in the engineering program and over 300 in both aerospace technical careers, supplying the industry with 36 engineers and over 60 licensed technicians in aerospace harnessing, precision machining and mechatronics each year.
In addition UTT recently inaugurated its $400 thousand dollar, Product Lifecycle Management Lab, the forth in Mexico. This lab includes cutting-edge software that allows controlling the product manufacturing process virtually, from its conception to industrial design, testing, manufacturing, delivery to the customer, and after-service. This lab will enable the companies to simulate a manufacturing process, reducing costs and mistakes; and will train students on the use of advanced simulation and design software facilitating their entry in engineering fields such as Industrial Design, Mechatronics, and Process Automation among others.
The Baja California Aerospace Cluster is joining efforts with local educational institutions and the State Government; working on early detection of engineering skills in students of basic and secondary levels of education, and integrate them to a scholarship program named "Robotics & Space Advance Program for BC Kids". The cluster has detected 260 candidates for the program: children of low income families and highly skilled in mathematics and exact sciences that also show great ability on problem solving, logic, analytics, critical reasoning and creativity skills.
The first stage of the program will cover a robotics course for 32 children, the "Wibots Robotics" course seeks to introduce children to the engineering field, with the purpose of awakening an early interest for science and technology.
Tijuana not only offers to the global industry a ready supply of aerospace related professionals, the city also holds a steady labor pool of over 12,500 trained and experienced employees, that is growing at 6% annually.
Tijuana´s education linkage committee will be supporting the State of Baja California efforts in promoting the local aerospace industry during the fourth edition of Baja´s Aerospace forum on August 29, with bus tours one day prior to the event. For more information visit http://www.bajaaerospaceshow.com
About Tijuana EDC: Nonprofit corporation dedicated to help companies to establish successful manufacturing operations in Mexico and to take advantage of business opportunities of vertical integration introducing qualified Mexican suppliers and accessing new markets. For more information on how to take advantage of these opportunities contact the Tijuana EDC at contact(at)tijuanaedc(dot)org or visit our website http://www.tijuanaedc.org