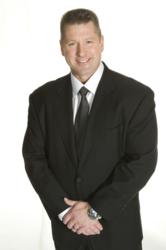 JDRF's commitment to discover preventive strategies and a cure for type 1 diabetes is remarkable. I am deeply honored to support and be recognized by this 'All-Star' charity, whose mission helps people attain a healthier, better-quality life.
Las Vegas, NV (PRWEB) March 21, 2013
The Nevada Chapter of the Juvenile Diabetes Research Foundation (JDRF) names Cenegenics CEO John E. Adams as honoree of their Gala of Hope 2013 fundraiser, being held at the Mandalay Bay Resort & Casino on Friday, April 26, announced Cenegenics, the global leader in age management medicine. The JDRF selected Adams for his continued support of JDRF and for his many contributions to the communities of Southern Nevada.
Adams cofounded Cenegenics back in 1997, along with Dr. Alan P. Mintz, pioneering the medical specialty of age management medicine. Cenegenics' focus then and now is a proactive, preventive medical approach to maximize health, wellness and vitality so people live well longer—an objective that mirrors the JDRF global agenda to find ways to better treat or prevent diabetes.
"JDRF's unwavering commitment and research support to discover preventive strategies and a cure for type 1 diabetes are remarkable. I am deeply honored to support and be recognized by this 'All-Star' charity whose fine work and mission help people worldwide attain a healthier, better-quality life," Adams said.
The Gala of Hope fundraiser will feature a cocktail reception, silent and live auctions, gourmet dinner with wine and energy-infused entertainment throughout the evening.  Last year's Gala attracted nearly 700 guests and raised over $850,000 for type 1 diabetes research.
"John Adams has always been a leader, using his gifts to help others and to create community. He approaches his life, health, fitness, education, career, business, family and friends with integrity and passion. It has been a pleasure to know him for over 30 years, which is why it is my great privilege to be joined by The Las Vegas Chapter of JDRF fellow board members and the JDRF Las Vegas community in recognizing John Adams at this year's Gala," JDRF Board of Directors Member for Special Projects Pia Exber-Morris said.
Individual tickets for the 2013 JDRF Gala of Hope are $350. Sponsorships include $3,500 (Table Sponsor), $5k (Inspiration Sponsor), $10K (Vision Sponsor), $15K (Dream Sponsor) and $25K (Hope Sponsor). 
For more information on event details, sponsorship, donation and ticket options, an auction preview, advance registration and volunteer sign-up forms, please contact Joyce Conroy, Special Event Manager at 702.732.4795 or via email at jconroy(at)jdrf(dot)org.
Follow Cenegenics on Facebook, Twitter and get health tips, patient celebrity blogs and health news on their portal site, CenegenicsPost.
For more information about Cenegenics, please visit them online to learn more about taking control of your health. To schedule an interview, please contact Ann Castro, Cenegenics Director of Media Relations: 702.953.1588.
About John E. Adams
Cenegenics®  CEO
Mr. John E. Adams is the cofounder and CEO of the global leader in proactive, preventive medicine, Cenegenics®. He also is the founder/chairman of the World Presidents' Organization - Las Vegas Chapter and an Honorary Commander at Creech Air Force Base, home of the Predator unmanned aerial vehicle. He serves on the University of Illinois at Chicago Dean's Business Advisory Council and Executive Committee of the College of Business Administration. In addition, he was appointed to the Presidents Council at the University of Illinois. He is a Platinum Sponsor for the Andre Agassi Foundation for Education, the University of Illinois at Chicago College of Business Administration and the Crohn's and Colitis Foundation of America. Mr. Adams is an INVENTORS capital campaign supporter for the Discovery Children's Museum and holds memberships in the World Presidents' Organization – Las Vegas and Chicago Chapters, Chief Executives Organization, Economic Club of Chicago, and the international gastronomic society, La Chaîne des Rôtisseurs™. Formerly, he was chairman of the Young Presidents Organization - Las Vegas and served six years on its board. His first entrepreneurial venture was as cofounder, executive vice president and chief operating officer of Medicon, Inc.—the world's largest radiology management company. Prior to that, Mr. Adams was a certified public accountant for Arthur Andersen & Company's Emerging Business Group in Chicago. He is a University of Illinois at Chicago graduate. 
 
About JDRF
JDRF is the leading global organization focused on type 1 diabetes (T1D) research. Driven by passionate, grassroots volunteers connected to children, adolescents and adults with this disease, JDRF is now the largest charitable supporter of T1D research. The goal of JDRF research is to improve the lives of all people affected by T1D by accelerating progress on the most promising opportunities for curing, better treating and preventing T1D. JDRF collaborates with a wide spectrum of partners who share this goal. Since its founding in 1970, JDRF has awarded more than $1.7 billion to diabetes research. Past JDRF efforts have helped to significantly advance the care of people with this disease and have expanded the critical scientific understanding of T1D. JDRF will not rest until T1D is fully conquered. More than 80 percent of JDRF's expenditures directly support research and research-related education.
About Cenegenics
Cenegenics® has forged a paradigm shift in medicine with its Elite Health Program, developing a proactive medical approach for maximized health, vitality and wellness, hailed as "next generation medicine" and garnering worldwide media attention. Cenegenics has 21 centers with others opening in the near future: Las Vegas, Nevada (headquarters/2 centers); Charleston, SC; Boca Raton, FL; Dallas, TX; Arlington, TX; Atlanta, GA; Chicago, IL; Beverly Hills, CA; Philadelphia, PA; Washington, DC; New York City, NY; Tulsa, OK; Jacksonville, FL; Atlantic City, NJ; Houston, TX; Denver, CO; Scottsdale, AZ; Boston, MA; Miami,FL; Charlotte, NC; San Juan, Puerto Rico. Cenegenics serves over 20,000 patients globally—2,000 are physicians and their families.
###