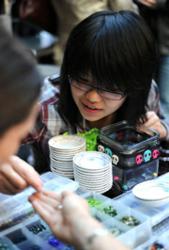 Contrary to many beliefs, many studies have proven that learning multiple languages won't confuse a child, or an adult learner: bilingualism actually reshapes the brain… It re-wires the brain, forming new neurons and new connections
San Francisco, California (PRWEB) March 25, 2013
Dragonfly Designs, is inviting parents to enroll their kids from five (5) years old and up to their Chinese Summer Camp for Jewelry Making in 2013. The bilingualism (English and Mandarin) of the camp will shape the activity and architecture of a child's brain. Aside from learning Mandarin and jewelry making techniques from a licensed instructor concurrently (all materials included), the camp also includes dance or yoga sessions to improve flexibility, outdoor games and fun activities to connect with nature, healthy snacks to improve mind functions (courtesy of Dragonfly Designs), and friendship building exercises to enhance a child's social skills.
Dragonfly Design's Mandarin Camp will help a child explore another culture in its native tongue and will help improve a child's cognitive abilities like develop better memory, attention to detail, visual-spatial skills, and boost creativity.
"Contrary to many beliefs, many studies have proven that learning multiple languages won't confuse a child, or an adult learner: bilingualism actually reshapes the brain… It re-wires the brain, forming new neurons and new connections", says Stacee Gillelen, a 'Jewelry with a Conscience Advocate' and owner of Dragonfly Designs. She added, "Learning another language has many positive effects on anyone's cognitive abilities, whether you're young or old. It prepares young minds to easily adapt to complex learning situations as they grow older and face the complexities of life. An added benefit is that it also protects an adult mind from cognitive decline. As an educator, I know that developing a 'bilingual brain' coupled with expanding creativity is a huge step toward creating divergent thinking for the 21st century."
With Dragonfly Design's Mandarin Jewelry Making Camps, students will expand and reinforce their Chinese language abilities as jewelry making techniques are introduced and incorporated with eye-popping color schemes from a large selection of high-quality glass beads for better knowledge retention. Teens and children will learn real jewelry making techniques like stamping and damping, polymer clay, wool felted beads, enameling, glass fusing, copper etching, bead stringing, wire work, resin pendants, and more.
The Mandarin Camps offer four (4) different packages for parents or guardians to choose from. They have a full week camp (9 am to 3 pm) worth $385 per person, a four-day camp (9 am to 3 pm) for $310, a single day camp for $79, and half day full week camp for $270.00 per person (9 am to 12 pm or 12:00 pm to 3 pm). Each participant will need to pay $100 to reserve their spot and pay the remaining balance on the first day of camp.
If you want to enroll your child or if you're interested to learn more about Dragonfly Design's Mandarin Camps, simply call 650-303-1900 or send an email to Stacee at stacee(at)jewelrybydfly(dot)com. You can also visit Dragonfly Designs online.