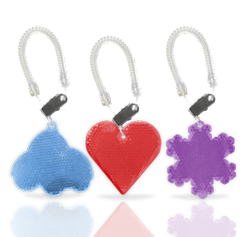 (PRWEB) March 21, 2013
Here's the thing - drivers can only see what is illuminated, what their headlights catch. People walking, biking, jogging on our streets are extremely hard for drivers to see. Most accidents involving pedestrians, joggers and bikers happen at dusk, dark or otherwise badly lit situations. Every eight minutes someone is hurt in traffic, every eight minutes.
Safees (http://www.safees.com) personal traffic safety reflectors help reduce the risk of accidents. Safees reflectors shine brightly when hit by traffic lights, immediately warning a driver that someone is in front of them, giving the driver time to slow down and steer clear.
Safees are hard prism reflectors that are simply clipped onto a bag, coat, pant pocket, bike or even pet's leash. A properly attached Safees will increase the wearer's visibility by up to 700% and reduce the risk of accidents by as much as 10 times.
Safees are now available in the US and Canada through http://www.safees.com. Safees come in several fun designs and colors; dinos, cats, smileys, cars etc, and there is one to suit all tastes and ages. Safees are USD 4.99 each. Shipping is free on all orders over USD 25.
Please check out http://www.safees.com for a great informational video and lots of useful information and links about traffic safety.
Press images can be downloaded from here: http://www.safees.com/pages/press-images.
Safees goal is to spread traffic safety awareness and make Safees reflectors a household staple. Traffic safety reflectors originate from Scandinavia, where traffic accident and mortality rates are the lowest in the world. And imagine this...every child in Scandinavia is taught to wear reflectors from early on, and continue to do so throughout their lives, making sure they are seen and safe. Reflectors are the cheapest form of life insurance out there - simply clip on a Safees and increase your safety. Remember, accidents happen just as much in cities as in suburbia or on country roads, so streetlights are no safety guarantee.