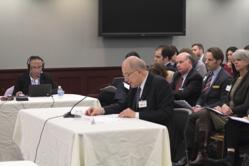 One teacher can have an impact on hundreds or thousands of students
Washington, D.C. (PRWEB) March 21, 2013
On March 14th, Dr. Dan E. Davidson, President of the American Councils for International Education and professor at Bryn Mawr College, testified before the House State-Foreign Operations (SFOPS) and Related Programs Appropriations Subcommittee. In his testimony, Dr. Davidson addressed the vital need for continued funding for international exchange and training programs that focus on helping U.S. and overseas participants develop deep knowledge of our respective languages, cultures, legal and economic systems.
Dr. Davidson recommended funding for FY 2014 in the State, Foreign Operations bill at least at the level requested by the Administration in FY 2013 for programs under the U.S. Department of State's Educational and Cultural Affairs. Funding was also requested in support of continued assistance for Eastern Europe and Eurasia, including assistance models in the educational sector that are making a major difference for a new generation of leaders in that part of the world. These invaluable programs support democratic engagement and overseas immersion training for U.S. high school and university students in critical languages, and Dr. Davidson lauded the subcommittee for embracing these activities.
"I am a huge believer," Chairwoman Kay Granger (R-TX) announced in response to Dr. Davidson's testimony, expressing her support of exchange programs and recalling how meaningful her own recent experience has been with two international exchange students being hosted by her son in Texas.
Dr. Davidson went on to acknowledge the particular need for international exchange and training programs focused on professional and faculty development. He applauded congressional support for programs such as the Junior Faculty Development Program (JFDP), Teachers of Critical Languages Program (TCLP), Intensive Summer Language Institute (ISLI) and Educational Seminars for administrators, reminding the committee that "one teacher can have an impact on hundreds or thousands of students."
Dr. Davidson saluted Congress' vital role in facilitating U.S. engagement in international exchanges around the world with support for programs that create educational opportunity in countries where such opportunities were only available through patronage and political connections. He mentioned the Kennedy-Lugar Youth Exchange and Study (YES) and the Future Leaders Exchange (FLEX) programs, informing the committee that in 2012 alone FLEX received 45,000 applications from ninth and tenth graders across Eurasia for only 820 positions.
"Your continued support of regionally focused programs ensures that U.S. business, government, and humanitarian engagement of strategic partner nations around the world will be well-informed concerning the historical and political cultures in which they operate, and hence able to forge long-term cooperative relationships based on mutual benefit and trust," Davidson said.
Dr. Davidson further reported on the success of two U.S. Department of State National Security Education Initiative programs for students: the National Security Language Initiative for Youth (NSLI-Y) for U.S. high schools students and the Critical Language Summer Institutes (CLS) for U.S. undergraduate and graduate students, which Dr. Davidson comments have successfully helped U.S. students to advance their linguistic and cultural knowledge, as well as increase mutual understanding across borders.
Dr. Davidson thanked the Subcommittee Chair, the ranking member, Rep. Nita Lowey (D-NY), and other members in attendance for continued support of the Department of State's Title VIII, Research and Training for Eastern Europe and the Independent States of the Former Soviet Union Program. American Councils is one of the organizations administering this program that fosters transnational relationships in research, fieldwork, and advanced training in areas essential for U.S. policy formation and analysis.
About American Councils
A leader in international education, academic exchange, and overseas language immersion, American Councils for International Education creates opportunities that prepare individuals and institutions for success in an increasingly interconnected world. American provides learning in key world languages, cultures and regions, helping individuals to achieve personal and intellectual growth through education, and creating the conditions for mutual respect among the peoples of the world. In over 35 years of educational exchange programs for high school students, teachers, professionals, and scholars, American Councils has helped thousands of people worldwide achieve language proficiency and cultural immersion through study abroad programs, training opportunities, and cross-cultural exchanges from the countries of Russia, Eurasia, China, Afghanistan, Africa, the Middle East, and Southeast Europe.
# # #