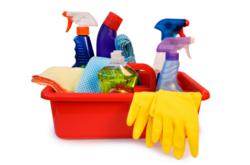 Waco, Texas (PRWEB) March 21, 2013
It is spring, but along with the blooming of flowers and warmer weather comes the daunting task of spring cleaning. It's time to open the windows and tackle those chores with these six tips from Aire Serv®, Glass Doctor®, Mr. Appliance®, Mr. Rooter® and Rainbow International®.
Dishwasher
According to Mr. Appliance, a dishwasher can be cleaned using a small brush dipped in hot soapy water. With the brush, clean the grooves in the rubber seal by going around the door of the dishwasher. Then, place a dishwasher-safe cup of white vinegar on the top rack and run a normal cycle.
Refrigerator
Using a hand-held vacuum, remove the dust from coils underneath or on the backside of the fridge. Accumulated dust can cause the motor to overheat and increase the cost of running the appliance.
Sink
To achieve a fresh smelling sink, keep leftover citrus peels. Mr. Rooter recommends putting a cupful of ice cubes as well as citrus peels in the garbage disposal. Turn on cold water and then the disposal for 15 to 30 seconds. Then, turn off the disposal and continue to rinse with hot water for 15 seconds.
Windows
When washing windows, wipe vertically outside and horizontally inside, so any missed areas can quickly be spotted. Glass Doctor, suggests drying the windows as you go with a squeegee or a micro-fiber towel to avoid water spots.
Air Conditioner
Have your central air conditioning system inspected by a HVAC professional, like Aire Serv, before the summer hits. The air conditioner keeps your home cool and it dehumidifies to keep mold from growing inside the walls. Clean or replace air filters monthly to help the AC unit run more efficiently. Remove shrubs, grass and leaves from the condenser coil and within three feet of outside unit.
Rain Gutters
Although often forgotten, rain gutters are important for home defense against storms. According to Rainbow International, water from rain can erode soil around the foundation, splash dirt onto the siding and leak into the basement causing expensive damage.
Utilizing these simple tips in your spring cleaning arsenal can help save you time, frustration and money down the line. Not to mention, you can rest easy in a clean and healthy home.