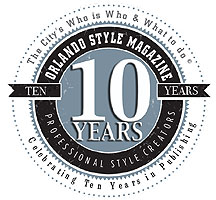 Orlando, FL (PRWEB) March 20, 2013
This year, Central Florida's premiere luxury lifestyle magazine, Orlando Style Magazine, welcomes its 10th successful publishing year. Beautiful and vibrant with the chicest trends and cutting-edge fashion spreads, in-depth reviews on beauty, travel, entertainment, real estate and celebrity profiles, Orlando Style Magazine, a component of Style Magazines, is synonymous with the luxury lifestyle of the city. Celebrating the people, places and events that define the unique character of the region, Style embraces the energy of metropolitan living, and its loyal readers make it the ultimate city guide.
"For the past 10 years in publishing, we have worked diligently in perfecting our product and offering top-notch value at the highest level in presenting fabulous and creative fashion and lifestyle shoots, excellent vibrant editorial content and fresh, entertaining local and national news," says Orlando Style Magazine Publisher and Owner Sven J. Bode. "Along with our loyal readership, our team with its endless resources has been a most precious asset in creating a magazine which serves the most discerning and influential people in the area. Our platform is well conceived, our product pristine and comparing 'apples to apples' provides all our clients with exceptional value."
As part of Orlando Style's anniversary celebration, $1 from each new subscription ordered this year will be donated to Runway to Hope. Runway to Hope mission is to serve and provide direct support to the children and families in the Central Florida community who have been impacted by pediatric cancer. Assistance includes research, education, technology and family assistance. Runway To Hope aids children and their families by partnering with Arnold Palmer Hospital for Children, Florida Hospital for Children, corporations, local businesses and philanthropists to raise funds and awareness so that progress made locally will benefit all children with cancer, nationally and worldwide. To subscribe to Orlando Style Magazine and donate to Runway To Hope, visit http://www.styletome.com/subscribe.html.
Currently, Orlando Style Magazine reaches over 200,000 readers per issue (including pass-along readership). Orlando Style's magazines are available throughout the city on newsstands in Publix, Barnes and Nobles, Orlando International Airport, etc... 15,000+ subscribers, numerous luxury businesses, in 9500 high-end hotel rooms like The Waldorf Astoria, Ritz Carlton Grande Lakes, Grand Bohemian, Hilton, Celebration Hotel, Westin Lake Mary, Marriott and many more.
Style Magazines is a multi-platform, multi-channel connection between the luxury goods industry and affluent and trendy consumers and readers. StyleToMe.com reaches millions of people each year, and the audience is growing rapidly through the magazines multiple platforms: web "Digistyle," social media, tablet, smartphone and email marketing with Style's weekly eblast "NewsToMe" which has over 12,000 opt-in subscribers.
Stay tuned for exciting information on Orlando Style Magazine's exclusive anniversary celebration this Spring, along with the announcement of the Model Search Winner. For more news and information on Style Magazines, upcoming events and to view Digistyle, visit http://www.StyleToMe.com.
About Style Magazines
Since its inception, Style Magazines has been on the pulse of who is who and what to do in the region. Comprised of Orlando Style Magazine, Tampa Style Magazine, The Concierge Guide and coming soon Travel 'N Style, Style Magazines define the cutting edge in every publication issue with fashion shoots by internationally acclaimed photographers, exciting articles on desirable destinations and the latest trends, interviews with prominent personalities and shopping guides on everything luxury. Style Magazines multi-media, multi-connection platform delivers the ultimate city guide for locals and visitors alike. For more information, visit http://www.StyleToMe.com.
###
MEDIA CONTACT: Ilene Lieber, 321-277-7812, passionprilene(at)yahoo(dot)com