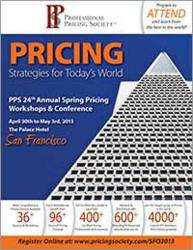 The most comprehensive pricing training conference to-date, Pricing Society offers 36 sessions and workshops and more than 96 hours of pricing training.
Atlanta, GA (PRWEB) March 21, 2013
The Professional Pricing Society (Pricing Society), supporting pricing education and training in 75 countries, is hosting its 24th Annual Spring Pricing Workshops & Conference from April 30, 2013 to May 3, 2013 in San Francisco at The Palace Hotel. The conference features hands-on workshops and high-level speakers from the words of business, technology and academia, building a diverse environment of pricing professionalism, networking and training.
The most comprehensive pricing training conference to-date, Pricing Society offers 36 sessions and workshops and more than 96 hours of pricing training. Important themes at this year's conference are change management via market-changing technologies, pricing in global competition and pricing leadership; as well as exploring the components of pricing change that boost bottom lines and drive transformation.
"In a constantly changing world, pricers must learn new processes and strategies to shape and improve innovation strategies," said Kevin Mitchell, president of the Pricing Society. "Pricers are having more input in multiple levels of the organization, transforming their traditional role into change agents and leaders. We have invited national and international pricing experts to share their experience spearheading effective change and to imbue pricers with the skills they need to succeed, like how to work with capable champions and within a culture of competitive accountability."
The conference will feature six keynote presentations from industry leading lights. Speaking talent includes Dr. Georg Tacke, CEO, Simon-Kucher & Partners, Caspar de Bono, managing director B2B, Financial Times Ltd and Robert D. Smith, director of corporate pricing, Eastman Chemical Company.
On day three, May 2nd, Dr. Georg Tacke will present, "Pricing and Commercial Excellence – How to Make It Happen," discussing the reasons of a poor pricing performance and how to transform an organization into a pricing champion. Dr. Tacke has more than 20 years of pricing consulting experience and specializes in developing business, marketing and pricing strategies for companies in the service and automotive industries.
Next we will hear from Caspar de De Bono. His keynote, "Making the Invisible Visible," explores the necessity of a direct customer relationship in pricing decisions and addresses how to price digital products in a weightless world. De Bono joined the Financial Times in 1995 and has served in a variety of roles including product development, marketing, strategy and publishing.
And ending day three, Robert D. Smith will cover "Sustainability in Pricing," enlightening attendees with the key areas of focus for developing a sustainable pricing culture and integrating acquisitions with varying pricing philosophies. Over the past twelve years, Smith's work with Eastman has focused on margin management and developing and sustaining pricing capabilities.
Additionally attendees will hear from Paul Hunt, president of Pricing Solutions Ltd., with "The Journey to Word Class Pricing," Larry Montan, director of pricing and profitability management practice for Deloitte Consulting, discussing "The White Elephant in the Room: Sales Compensation," and Steve Haggett, former senior director of pricing for Philips Healthcare, presenting "Speaking in Tongues."
These six expert keynotes headline what will be an active 24th Annual Pricing Workshops & Conference. Attendees will grow vital pricing skills in 2 two-day workshops and 7 one-day workshops, as well as 18 sessions populating three interest-specific breakout tracks – Pricing Practitioners Pricing Experts, and Tools and Techniques.
For complete information on the Annual Spring Pricing Conference in San Francisco, or for research and resources related to the profession of pricing, visit the Professional Pricing Society at http://www.pricingsociety.com.
About the Pricing Society
The Professional Pricing Society is the largest professional society dedicated solely to pricing training and education. Its mission is to advance the creation, communication and application of pricing knowledge throughout the world. The Professional Pricing Society provides pricing professionals with current strategies, market trends, analysis, research and resources from today's leading pricing experts and technology. For more information on membership or events visit the organization's website at http://www.pricingsociety.com.