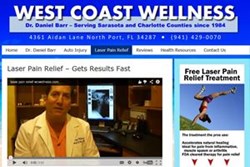 We are so confident in our laser pain relief therapies, we offer you a complimentary first treatment to see how effective it is.
North Port, FL (PRWEB) March 20, 2013
Just a few short years ago, the phrase "laser therapy" may have sounded pretty futuristic, but today the benefits of laser therapy are well-proven and available to patients in North Port, Florida. During the past two years, West Coast Wellness has successfully treated more than 200 patients using its most advanced Class IV lasers. By using laser energy in a non-invasive, highly-targeted way, North Port Chiropractor Dr. Daniel Barr and his team can alleviate pain, reduce inflammation and accelerate healing. Laser therapy is safe and effective in treating a wide variety of acute and chronic conditions as well as post-surgical pain. It's been widely adopted among professional sports teams and has become the standard of care for a range of musculoskeletal injuries.
When asked about the results, Dr. Barr shares a couple of stories, "I've had a woman ready for knee replacement surgery who, after three weeks of laser therapy, cancelled the surgery and a year later is still pain free. Another patient—a runner—had stopped running due to painful plantar fasciitis. The patient had already seen an orthopedic specialist and a podiatrist who had prescribed medication, injections and a course of therapy. After five treatments with the laser, the runner was back running."
According to Dr. Barr, laser therapy can help with any condition related to inflammation, pain, arthritis, or muscle spasm. It can be applied to larger areas of the body such as the back, neck and shoulder as well as to smaller areas, including the elbow, wrist, knee, ankle, and foot. He encourages people who are interested in learning more about laser therapy to visit the Laser Pain Relief page on the West Coast Wellness website. While they're there, they can also print out a coupon for a complimentary first treatment so they can experience the benefits first-hand.
About Dr. Daniel Barr and West Coast Wellness
Daniel Barr, D.C. received his doctorate of chiropractic from Life University in 1984 and has been licensed to practice in Florida since 1985. He is a diplomat of the National Board of Chiropractic Examiners. He founded Barr Chiropractic in 1985 and West Coast Wellness in 2006.
West Coast Wellness
4361 Aidan Lane
North Port, FL 34287
(941) 429-0070
http://wcwellness.com
Follow West Coast Wellness on Facebook (https://www.facebook.com/westcoastwellnessfl/)