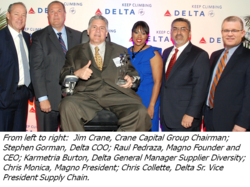 We're really proud of our organization and to be able to partner with a best in class organization like Delta is just awesome.
Doral, FL (PRWEB) March 22, 2013
Magno International, LP today announced it has been chosen as the "New Diversity Supplier of the Year" by Delta Air Lines at their 14th Annual Star Awards banquet in Atlanta, GA for performance excellence in logistics and transportation in 2012. Delta, one of the world's premier airlines recognizes its most outstanding small, minority-owned and women-owned suppliers as well as Delta's internal department teams. The Star Awards reflect Delta's commitment to diversity through recognizing suppliers that show Delta's core values while doing business with the airline and Delta teams and individuals who champion supplier diversity. "We want to make sure our suppliers look exactly like our employees and our customers," said event organizer Karmetria Burton, general manager-Supplier Diversity. "We want to serve those suppliers in the communities where we work and live." Magno's Founder and CEO Raul Pedraza commented, "We're really proud of our organization and to be able to partner with a best in class organization like Delta is just awesome."
Magno provides several logistics and transportation services for Delta domestically including same day, next day and two-day cargo shipments, warehousing and inventory management and the management of dangerous goods shipments. Magno consistently met and exceeded the Delta Scorecard key performance indicator goals in 2012 which included overall on-time delivery of over 99% and claim free service on nearly 10,000 orders. Said Chris Monica, Magno President, "I'm so proud of stellar performance our account management team and the extended Magno organization delivers in support of the Delta account every day. And we can't take all the credit for our performance; Delta's commitment to continuous improvement and focus on collaborative solutions has been instrumental to our success."
About Magno International, LP
Magno International, LP is a Minority Business Enterprise specializing in transportation and logistics. Magno is an NMSDC certified CVE-verified veteran-owned and a self-certified disabled-owned business with key alliances that help strengthen buying power, improve scope and allow them to scale quickly Magno offers a variety of integrated transportation and logistics services including local, national and global air and ocean freight forwarding, time-definite LTL, full truckload and customs brokerage. We also offer value added logistics solutions in warehousing, order management, fulfillment and returns management. Magno provide a highly personalized service and a flat organizational structure that allows us to deliver flexible and customized solutions quickly. More than anything, we are committed to delivering the best, most efficient solutions at the lowest delivered cost.