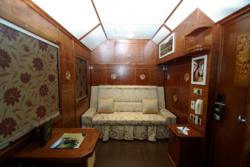 The variety and style of luxury trains and their associated excursion programmes in 2013 offer an amazing choice.
Chippenham, Wiltshire (PRWEB) March 22, 2013
The Luxury Train Club opens the 2013 season for luxury rail journeys by highlighting some of the very best tours.
The Club presents rail journeys by over 30 luxury trains in 39 countries worldwide. The Calendar of Luxury Train Journeys makes it easy to find the train to suit a special day. Membership is simple and free, just subscribe to the Club newsletter and 'like' Facebook/LuxuryTrainClub.
The Venice Simplon-Orient-Express is probably the best-known of luxury trains. A series of new rail voyages to Scandinavia takes place in April 2013, firstly from Venice to Stockholm, via an overnight stop in Copenhagen. The return journey travels from Stockholm, via Copenhagen, for Venice. This new route is a first for the train.
Al Andalus, normally based in Andalusia in southern Spain, is running for the first time in central Spain, between Madrid and Zaragoza; there is a full programme of off-train excursions, like the itinerary from Seville.
El Transcantábrico Gran Lujo operates in what is known as Green Spain. España Verde is the northern coast which stretches from Galicia, along the Bay of Biscay to the French border. Gran Lujo is the world's most luxurious narrow-gauge railway, every suite having a lounge and a private bathroom.
Danube Express is the only international private train in Europe with en-suite compartments, lower beds and air conditioning. There are only 50 passengers per tour, which includes all meals, drinks and off-train excursions. Tours take in the Danube, Budapest, Prague and iconic Istanbul.
Both Rovos Rail and the Blue Train run between Pretoria and Cape Town, both ways. This gives luxury travel enthusiasts the opportunity to sample both of these luxury trains, each with its own character, during one visit to South Africa.
Majestic Train de Luxe, modelled on the Imperial Train of Emperor Franz Josef, operates a small number of special journeys from Vienna during 2013, in partnership with gourmet chef Toni Mörwald, with a finale for New Year's Eve.
Simon Pielow, Concierge at the Luxury Train Club, says, "The variety and style of luxury trains and associated excursion programmes offer an amazing choice."
About the Luxury Train Club
The Luxury Train Club is the personal booking service for the world's greatest train journeys, offering a concierge approach to booking train holidays, vacations and day trips. The site also offers private rail charters and rentals for VIP and corporate bookings as well as comprehensive information about each of the trains on offer.
Members of the Luxury Train Club benefit from discounts and offers. The Club also provides gift vouchers – Ticket To Ride – which can be personalised for the event or to be included on wedding lists.
Membership is free, just subscribe to the Club newsletter, and like Facebook/LuxuryTrainClub.
For more information, please visit http://www.luxurytrainclub.com, contact Simon Pielow on +44 (0)1249 890205 or email info(at)luxurytrainclub(dot)com.
The Luxury Train Club is part of a group of rail booking sites which includes Train Hire, Private Rail Cars, Train Chartering and soon-launching World Train Travel.