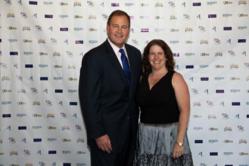 Paterson, New Jersey (PRWEB) March 22, 2013
Sal Lauretta for Men, one of the area's most exclusive shops for menswear and custom tailoring, will be hosting the 4th Annual "Behind the Seams" fashion show to benefit Eva's Village, a non-profit comprehensive social service organization located in Paterson, NJ. The exclusive fashion show will present The Robert Graham collection (currently available at Sal Lauretta's) and Hartly Fashions will be featured. The event will be held on May 20th from 6-10 pm at Bottagra Restaurant, located at 80 Wagaraw Road in Hawthorne.
This event will help support the many anti-poverty programs at Eva's Village, whose mission is to feed the hungry, shelter the homeless, treat the addicted, and provide medical care to the poor with respect for the human dignity of each individual.
"This is our fourth year hosting this fashion show to benefit the programs at Eva's Village and each year the event grows. It is much like the Bryant Park Fashion Week tents in NYC, complete with outdoor tent area, DJ, fashion kiosks, fine fare, cocktails, and swag bags," said Ralph Lauretta, owner of Sal Lauretta for Men. Tables of ten are available inside Bottagra Restaurant with VIP family style dinner and cocktails. Following dinner guests will be escorted to an expansive tent with the runway for the Fashion Show. We would like to thank McGraw Communications for renewing their Presenting (Tent) Sponsorship this year. Eva's Village is an amazing organization to partner with and the proceeds from this event assist many people, truly in need," he continued.
For information and to make reservations, call Joe Mazza at 973-523-6220 ext. 235.
About Sal Lauretta for Men:
For over three decades, Sal Lauretta for Men has provided discerning men with the finest men's fashions and custom tailored suits. In addition to made-to-measure items and formal wear, the shop is also home to some of the biggest names in men's classic and contemporary designer fashion such as Hugo Boss, Canali and Hickey Freeman, and recently opened a Boys' department. Sal Lauretta for Men is located at 621 Godwin Avenue in Midland Park, New Jersey. For more information, call (201) 444-1666.
About McGraw Communications:
Since 1996 McGraw Communications has been delivering reliable and cost-effective communications solutions, real value and unrivaled service and support to business customers globally. A Fortune 5000 company for three consecutive years, McGraw is privately held, profitable, debt free, innovative and customer focused. We use a multi-carrier approach to provide the optimum blend of telecommunications services but also employ proprietary systems and software that simplify the entire experience for business-class customers so they can focus on what they do best. Our wide array of products, internal systems, skilled and responsive personnel, high level of service and burden-free philosophy have produced one of highest customer retention rates ever achieved in the competitive telecommunications industry. We earn this loyalty by never taking a customer's business for granted and never resting in the pursuit of our goal: to facilitate the most productive and valuable telecom experience available.
About Bottagra:
Named for a fish roe used in Italian cooking, Bottagra brings a modern Mediterranean flair to traditional Italian fare. Chef-Owners Carlo Carbonaro and Robert Vicari have fused their extensive restaurant experience to offer a variety of dishes that hail both the northern and southern regions of Italy. Bottagra's menu features fresh and flavorful items, as well as an extensive wine list. Bottagra is located at 80 Wagaraw Road in Hawthorne, New Jersey. For more information, call (973) 423-4433.
About Eva's Village:
Founded by Msgr. Vincent E. Puma in 1982 as a response to the poor and homeless in Paterson, NJ, Eva's Village is a non-profit comprehensive social service organization. Through three decades of service, Eva's Village has established a unique record in facing community challenges and changing the lives of the hungry, homeless and addicted. It has grown from a simple soup kitchen to become the most respected anti-poverty program in New Jersey. Eva's Village now includes fourteen integrated programs housed in numerous buildings spanning several city blocks in Downtown Paterson.