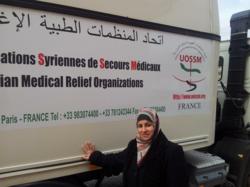 (PRWEB) March 20, 2013
The Union of Syrian Medical Relief organizations is saddened by the loss of one of the most active medical staff, Dr Nawal Shaker, from Al-Latakkia, who died of a coma after a car accident, while she was in her daily trip to provide medications and treatment to people in need in Northen Syria.
Dr, Anas Alkassem, UOSSM board member, said, " Dr Nawal was an exceptional physician, who honored her oath of the principles of medicine; and sacrificed her time, efforts, and life to save the lives of injured and wounded Syrians. She risked her life moving from one location to other, helping people in dire needs for medical care, and conveying medications and medical supplies across the border from Turkey into Syria."
Remembering her outstanding professional and personal life, Dr Alkassem, said, "Dr. Nawal had demonstrated unique bravery, overcome her personal family unfortunate events to provide care for Syrians in needs. Despite her husband's detention by Syrian regime and the huge burden imposed on her as a single mom, taking care of three kids, she managed to maintain high spirit and extended her relief missions to more Syrians by spending more time in field hospitals and in the refugee camps."
UOSSM extends condolence to Dr Nawal's family, her two sons, friends, and colleagues. She will be remembered for her hard works in humanitarian aids and commitment to oath of medicine. UOSSM has established a fund for the benefit of Dr Nawal's kids, in her memory. Please make your donation to the link below.
https://www.paypal.com/cgi-bin/webscr?cmd=_s-xclick&hosted_button_id=5F9FWDU9VJ4KW