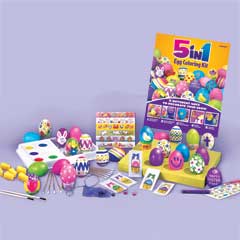 (PRWEB) March 21, 2013
Easter is a great time to break out the themed decorations and celebrate the holiday in style. Windy City Novelties has provided some ideas for decorating this year.
Outdoor decorations: Homeowners will be able to find exterior Easter decorations to place in their yards or on doorsteps in the Easter decorations section, under the retailer's Easter themed party supplies category. Windy City Novelties provides lawn decorations in the form of cardboard bunnies and colorful Easter eggs for festive exterior decorating. Individuals can also hang pastel colored Easter banners or lantern lights on porches or above entryways, along with other colorful Easter themed exterior decorations.
Interior décor: Within the retailer's Easter decorations section, customers will also be able to locate party decorations for family get-togethers. These decorations include spring-colored garland, banners and streamers. Individuals may also decorate with brightly colored hanging decorations in the form of Easter eggs, or other Easter shapes, and can hang Easter cutouts on walls.
Easter egg coloring kits: Because coloring Easter eggs is a common and fun Easter activity, Windy City Novelties now offers Easter egg coloring kits. These kits include everything needed for coloring eggs, such as five different dye tablets, a wax crayon for special messages, stickers, paint brushes and sponges for intricate decorating, a decorating pallet, and an egg drying stand. All that the consumers need to supply for these Easter egg decorating kits are the hard-boiled eggs.
Easter themed costumes: Choose from a variety of different Easter costumes in different styles and sizes. There are numerous bunny costumes to choose from, including the typical white Easter Bunny, as well as Bugs Bunny and Wascal Rabbit.
Easter basket goodies: For the customers that want to add toys and trinkets to Easter baskets in addition to candy, the retailer provides many different Easter goodies. Parents can order packs of Spring Colored Friendship Bracelets for as little as five cents, as well as stickers, notebooks, mini bubbles and plush pastel ducks. Colorful plastic eggs are also available for Easter baskets or Easter egg hunts.
ABOUT WINDY CITY NOVELTIES
Windy City Novelties, a party supply company founded in 1983, is known for their great selection and competitively priced items. They have an A+ rating from the Better Business Bureau and are also a NexTag 5 star Seller. From their website, windycitynovelties.com, they offer fast and friendly shipping along with great customer service. From glow sticks in every color of the rainbow, to party decorations in a variety of themes, and even a vast selection of Halloween costumes at the best prices, Windy City Novelties has over 15,000 products and adds more each week. Windy City Novelties also provides party and gift ideas and advice. For help or more suggestions, email our experts.