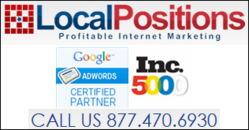 "We're incredibly excited to offer expert SEO and Internet marketing services that are customized specifically to the needs of local businesses around the nation," Local Positions President Arthur Yannoukos said
Los Angeles, CA (PRWEB) March 20, 2013
National Positions, one of the biggest Internet marketing companies in the United States, announced today the launch of Local Positions, a local marketing business unit that specializes in helping local companies increase their lead generation and grow their businesses online.
Local Positions offers end-to-end local Internet marketing solutions, including promotion in the local search results, paid search results, mobile advertising and email marketing. Local Positions works primarily with small and medium size companies looking for affordable marketing services that drive local customers to their doors.
"We're incredibly excited to offer expert SEO and Internet marketing services that are customized specifically to the needs of local businesses around the nation," Local Positions President Arthur Yannoukos said.
Parent company National Positions has nine years of experience in Internet marketing, working with companies of all sizes and all over the world. In nine years, National Positions has won numerous awards for its work, including being named to Inc. Magazine's list of fastest growing privately held U.S. companies for four consecutive years.
Local Positions was launched to take the proven methodology of National Positions and harness it for the growing hyper-local online market across various industries.
The significant growth of local online advertising is following the trends of consumers, who are now using the Internet to find local products and services. According to eMarketer, as of the start of 2013, more than 80% of consumers are using the Internet to search for local businesses.
The growth of mobile search is playing a big role in the success of local online advertising. Mobile search has surpassed traditional search, as more than 100 Million Americans own mobile devices today. According to a number of reports, 90% of mobile local customers take action (purchase, call a business, sign up for a trial, etc.) within 24 hours of finding a brand online, giving local online advertising a tremendous immediacy that few marketing channels can equal.
"Today, Internet marketing is more important than ever, especially for brick and mortar businesses," said Yannoukos. "The Internet has completely transformed the way local businesses market themselves and Local Positions has created a truly comprehensive and customizable campaign that will help these local businesses profit from the powerful exposure the Internet offers."
Local Positions also offers social media marketing, video promotion, coupons and daily deals, web design and online reviews management.
To learn more about Local Positions, visit http://localpositions.com/ or call 877.470.6930.