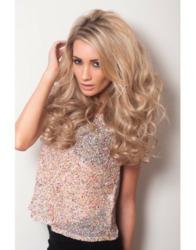 Half wigs and instant weaves are an amazing invention, they are simple to fit and give your hair the volume you want in an instant.
(PRWEB UK) 22 March 2013
One of this year's widely reported hair trends is 'big hair'. Inspired by the likes of TOWIE and Cheryl Cole the big hair look has made a huge come back and now everyone is trying to get to grips with boosting their volume to get big locks. The difference this time though is that nowadays instead of 'faffing' with rollers and expensive blow dry's, the option of 'faking' it with an instant weave of half wig is much more main stream.
It is easy to get big hair using a half wig or an instant weave and leading retailer, Wonderland Wigs have reported an increase in demand. As such, they have expanded their range. The company stock a full range of instant weaves by Beauty Works and a large range of their own brand half wigs and instant weaves, they have now expanded their colour offering of synthetic double volume instant weaves (priced £39.99) and have also introduced a full range of human hair double volume instant weaves (priced £189.99).
Samantha McClements (Creative Director at Wonderland Wigs) says, "We are pleased to announce [this week] that we have significantly increased our colour offering of double volume instant weaves. We have also for the first time introduced a range of human hair double volume instant weaves. We are huge fans of instant weaves as they are so simple and easy to fit and literally transform your hair in an instant, so are very excited to be expanding our range."
For full details of how to fit a half wig click here.
__________________________________
Wonderland Wigs is a leading retailer of celebrity and fashion led wigs, hairpieces, extensions and hair accessories. Based in the UK, with the aim of giving every girl the 'great hair she deserves', Wonderland offer something for everyone and are favored by a host of celebrities across the world. http://www.WonderlandWigs.com/en/