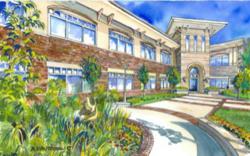 J. Rockcliff Realtors continues to be on the leading edge of the latest real estate trends. We are fortunate to count some of the best agents in the Tri-Valley as our own and are thrilled to provide them with the latest tools to assist their customers.
Pleasanton, California (PRWEB) March 21, 2013
J. Rockcliff Realtors has announced state of the art changes to their locations in the Tri Valley. The Pleasanton office, conveniently located to both 580 and 680 has expanded their offering to create the optimum real estate office.
J. Rockcliff Realtors once again has taken the initiative to create an environment where agents have access to the latest in marketing and technology and risk management services.
The Pleasanton office now houses a video room, featuring green screens, virtual sets, professional quality video recording gear including HD video and a full suite of editing tools. Our in-house Marketing Coordinator is available to create personal branding, high impact marketing brochures and integrate with all marketing mediums. The company has been completely paperless for quite some time now, but the recent addition of a "tablet version" of their transaction management software allows agents the ability to have 24/7 access to their transaction files.
The full time office administrators, transaction coordinators and weekend receptionists are available to assist agents with anything needed and provide a willingness and "can-do" attitude not often found in staff persons. The most experienced management team in the area provides personal coaching and assistance with transactions. Class A office space providing ample parking, white noise and conference areas with large flat screens make the Pleasanton office the most inviting office in the area.
The Livermore office team will be joining the Pleasanton office to allow them to be more efficient and enjoy the resources that enhance customer service efforts for our clients leaving behind the 1950's space where they have been housed since Rockcliff acquired a former Century 21 office.
Robin Dickson, Executive Vice President and General Manager of the office shared her enthusiasm for the change and said, "while other companies continue to struggle, I'm proud to say that J. Rockcliff Realtors continues to be on the leading edge of the latest real estate trends. We are fortunate to count some of the best agents in the Tri-Valley as our own and are thrilled to provide them with the latest tools to assist their customers."
Joel Engel will be joining the office as the sales manager and stated, "I couldn't be more pleased! The synergy created when all of these outstanding agents are in one location will be quite a force!"