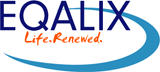 Reston, VA (PRWEB) March 26, 2013
Eqalix has announced they have received a $50,000 grant from the Nanotechnology Institute in Philadelphia Pennsylvania which will facilitate the advancement of the development of its technologies for regenerative medicine. This project was financed (in part) by a grant from the Commonwealth of Pennsylvania, Department of Community and Economic Development via funding to the Ben Franklin Technology Partners of Southeastern PA and the Nanotechnology Institute. This grant comes from its Match for Sponsored Research Program, which adds to the $125,000 Sponsored Research Agreement executed between Eqalix and Temple University. This SRA is designed to facilitate the expansion of Eqalix's pre-clinical research and development efforts through a Sponsored Research Agreement with Temple University's Department of Bioengineering.
"The NTI has been a continuous and enthusiastic supporter of Dr. Peter Lelkes and his NanoScaffold technology. The successful execution of the licensing and SRA agreements for this technology moves this important technology in medical textiles closer to commercialization." Anthony P. Green, Ph.D., Vice President of Technology Commercialization: Life Sciences, BFTP/SEP, Ben Franklin Director, NTI.
As a first goal, the NTI Grant will be used to advance research and development of a novel plant-protein based nano-fibrous scaffold for difficult to treat wounds as well as applications in aesthetic dermatology. Scaffolds made of plant proteins are intended to accelerate the natural wound healing process and are a promising product candidate for skin regeneration in acute and chronic in wounds and burns. To date, Eqalix's APS for enhanced wound healing have undergone the initial proof-of concept in pre-clinical research. Joseph P. Connell, Chairman and CEO stated, "We are excited to receive the financial support of NTI to advance the development of OmegaSkin™. OmegaSkin™ has the potential to heal full thickness wounds without scarring and has the potential to change the way we treat chronic wounds, burns and accelerate the physiologic healing in aesthetic dermatology applications."
About Eqalix
Eqalix is an emerging regenerative medicine development company with a goal of enhancing the quality of life of consumers and patients by providing novel nano-materials for the repair and regeneration of diseased, traumatized and aging tissues. Its innovative technologies are intended to revolutionize the unmet needs in multiple commercial and therapeutic applications in the Regenerative Medicine space via exclusive commercial licensing from three prominent institutions (University of Pennsylvania, Drexel University and Children's Hospital of Philadelphia).
Eqalix plans to leverage its technologies to develop and commercialize: (a) plant-protein based nano-fiber scaffold for use in aesthetic dermatology and wound healing markets; (b) small- diameter hybrid vessels that reduce graft thrombogenicity and promote the creation of a functional endothelium after implantation; and (c) 3-Dimensional tissue scaffolds with tunable properties for tissue and organ replacement and repair in vivo and for advancing molecular cell science and engineering in vitro.
About NTI:
The overarching mission of NTI is to focus on the transfer of nanotechnology discoveries and intellectual knowledge from universities to industry partners, and on the rapid application and commercialization of nanotechnology to stimulate economic growth.
The NTI is seeded with a technology grant whose cumulative value is $16.3 million from the Commonwealth of Pennsylvania's Ben Franklin Technology Development Authority, and is administered through the Department of Community and Economic Development (DCED).
The NTI breaks barriers to commercialization through facilitated licensing, sponsored research and company spinouts through partnering organizations. With its unique model, the NTI acts as a "single point of contact" that brings together academic and research institutions, corporate partners, private investors, government, and economic development organizations to harness the potential of this new scientific frontier.
Eqalix, Inc. is a privately held Virginia based C-Corporation located at:
1900 Campus Commons Drive
Suite 100
Reston, VA 20191
Contact: Joseph P. Connell, CEO
910.233.0806