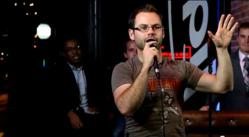 At least I'm not Lebron James
Cleveland, OH (PRWEB) March 21, 2013
On March 21, 2013, Laugh Staff consultant, Josh Womack, is taking some time off from writing best man speeches to start a five day stint of hosting at Cleveland's premier comedy club, Hilarities. With so many comedians bringing their own opening acts, it is thrilling for local talent to be able to show their stuff.
Hilarities offers a monthly showcase on their Cabaret stage to local comedians to get a taste of what it's like to perform at a professional venue, but how does one make the leap from the Cabaret to the coveted main stage?
One way to break onto the main stage is supporting other comics. Womack's first break hosting Hilarities came when fellow comedian, Jason Lawhead, got his first chance as a headliner: "It was Thanksgiving Eve 2011, a really special night," said Womack. "He vouched for me."
From there, comedians can go above and beyond. Performing at Hilarities gives comedians the experience of being on a professional stage and a chance to talk and maybe get some advice from their personal heroes.
"It was my goal from day one to get on that stage," said Womack. It's a goal he can cross off the list because from then on, Womack has had the chance to work with some of the best out there: Kevin Nealon, Sebastian Maniscalco, Keith Alberstadt and fellow Laugh Staff consultant, Jay Black.
Laugh Staff, Inc. was founded in 2012 by a team of comedians and writers in Cleveland, Ohio. Laugh Staff helps their clients with best man speeches as well as providing best man speech examples on their blog. They assist best men and maids of honor in speech-editing, speech writing, and provide training on speech delivery. Recognizing the importance of the big day, Laugh Staff's professional comedians work with best men and maids of honor to ensure they make a lasting impression. For more information visit us http://www.laughstaff.com.