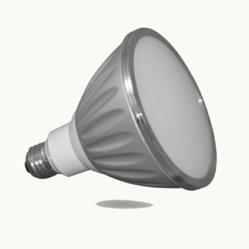 The bulb is ideal for outdoor security lighting, especially with its intended lifespan of 25,000 hours.
Chicago, IL (PRWEB) March 21, 2013
Oftentimes, consumers will purchase and use light bulbs wherever they please, not knowing that certain types of bulbs are not equipped to handle certain environments. Online light bulb retailer, Go Green LED Bulbs, has recently added a new bulb—the Kobi Electric Outdoor PAR 38 LED light bulb--to their product line. This particular bulb is UL certified for use in "wet locations," meaning it will not become damaged by precipitation, making it the ideal bulb for exterior lighting purposes and one of the only ones on the market today.
When purchasing new lighting, consumers tend to search solely based on a few aspects of the bulb, such as bulb shape and wattage amount, instead of finding a bulb that will cater to all of their needs. Most consumers are unaware that the bulbs they are purchasing to place in outdoor lighting fixtures are not actually designed to operate outdoors. This causes them to become easily damaged, thus shortening the intended life span of the bulb, and will void any manufacturer's warranty.
For optimal lighting in outdoor lighting fixtures, consumers must purchase bulbs specifically tailored for exterior lighting purposes. There are very few LED bulbs that are designed for exteriors and Go Green LED Bulbs has recently added one to their product line. The Kobi Electric Outdoor bulb is a PAR 38 shaped LED bulb, a direct replacement for a 75 Watt, PAR 38 halogen bulb. PAR 38 bulbs are suitable for use in outdoor security lighting applications, such as flood lights, or can be used in track lighting applications. Because LEDs are more energy-efficient than halogen bulbs, this particular bulb only uses 15 Watts, but emits a light as strong and bright as a 75 Watt halogen bulb. The color of light emitted—a warm white color--is very similar to the light emitted from halogen bulbs, eliminating the concern of excessive brightness.
Because the Kobi Electric Outdoor PAR 38 LED light bulb is UL approved for use in outdoor locations, it can be placed in exterior lighting fixtures without the concern of becoming damaged by precipitation, or other weather conditions. The bulb is ideal for outdoor security lighting, especially with its intended lifespan of 25,000 hours. It can also be used in outdoor track lighting applications, such as outdoor entertainment areas, or may be used in indoor track lighting applications.
LED (light emitting diode) light bulbs are the most energy-efficient light bulbs on the market today. They significantly reduce energy consumption in homes, offices, stores, etc. Because of their condensed energy consumption, they also reduce costs associated with electricity usage. This allows homes and businesses, as well as other facilities, to become environmentally friendly and reduce their carbon footprint, while saving money on energy costs. Although installing LEDs may be an investment due to their high price, owners will receive a return on investment within a couple of years as a result of lowered energy usage, as well as LEDs' extended life expectancy. As an added benefit, LEDs do not contain any harmful chemicals, and therefore, are easy to dispose of, unlike CFLs, halogens, and other bulbs.
ABOUT GO GREEN LED BULBS
Go Green LED Bulbs is a leading distributor of energy efficient products including LED light bulbs, exit signs, LED Christmas lights, flashlights and more. Located in Round Lake Beach, IL, Go Green LED Bulbs works hard to inform the consumer so they can make the best decision on what LED lighting products are right for their residential or commercial space.